Regions
Manitoba Travel Guide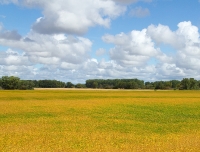 Manitoba © Tony Hisgett
Bordered by Ontario to the east, Saskatchewan to the west and the USA to the south, Manitoba is located on the stunningly beautiful and evocative area known as the prairies, a predominantly agricultural region steeped in history and culture. Locals and visitors here enjoy an active outdoors lifestyle centred around fishing, hiking and wildlife viewing.
Manitoba's capital and largest city is Winnipeg, a fantastic place to explore in itself and located very close to Lake Winnipeg, one of the world's largest freshwater lakes. But for those wanting to escape the city, this province boasts a rich cultural history and exciting attractions.
Manitoba is believed to have been first inhabited shortly after the last glaciers melted away, as a large amount of petroforms (boulder mosaics) and medicine wheels can be found near Turtle Mountain in the southwest. North American aboriginals went on to inhabit the land before Henry Hudson sailed into what is now known as Hudson Bay in 1611.
The winter months in Manitoba provide perfect conditions for tobogganing, skating and snowmobiling, although heavy snowstorms are common and those unfamiliar with the terrain should beware of plummeting temperatures, which can drop as low as -40°F (-40°C). Manitoba compensates with equally extreme summers and plenty of sunshine year-round.
During the summer months, a trip out to Oak Hammock Marsh, Riding Mountain National Park or Polar Bear Capital Churchill will reward visitors with an incredible array of wildlife viewing opportunities. From polar bears and beluga whales in Churchill, to black bear and bison in Riding Mountain National Park and moose in Hecla-Grindstone Provincial Park, Manitoba is a nature-lover's paradise!