United States of America

---

---

---

---

---

---
Regions

show more Regions
Resorts

---

---

---

---

---

show more Resorts
Ports of Call

---

---

---

---

---
Key West Port of Call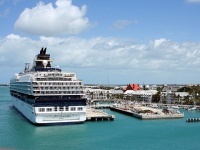 Sunset in Everglades National Park © Esther Lee
Key West island, part of Key West City, at the very tip of the Florida Keys, is a historic vacation destination seamlessly mixing old Victorian houses and placid blue waters into a funky modern tourism hub.
Famous sights in Key West include historic residences such as Ernest Hemingway's and Harry Truman's homes, best seen aboard the Conch Tour Train. For a rare view of the flat island, the Lighthouse Museum is a popular lookout.
Most cruise ships dock at a pier alongside Mallory Square, directly in Old Town. Although cruise passengers are encouraged to spend time in Key West, cruise ships must depart from the pier before sunset and return after dark so as not to impair sunset views. Westin Pier, also called Pier B, is within walking distance, while The Navy Mole, shared with the US Navy, requires a short trolley ride.
---
Contact
Transport
From Mallory Square and Westin Piers the Old Town is within easy walking distance. Cabs can be hired although many prefer to buy day passes on the circling trolleys or shuttle where passengers can hop on and off at their will. Others can hire a bicycle or golf cart.
Attractions
Jumping back in time to Harry Truman and Ernest Hemingway is popular at their respective homes. The southernmost point on of the US is also a popular tourist destination as is the Lighthouse Museum for a great view. The Audubon Houses & Tropical Gardens, an aquarium, butterfly and nature conservatory, all have impressive collections of local species. Several beaches, like Smathers Beach and Fort Zachary, and shopping centres can fill in the rest of one's island time.
Restaurants
The Flaming Buoy Filet Company - fun eatery serving excellent lobster mac and cheese
New York Pasta Garden - great Italian food in a pretty outdoor setting
Garbo's Grill - cheap and cheerful Carribean-style fast food
Best Dish
Best Dish: Yellow Tail Snapper or key lime pie
Shopping
The Old Town offers attractive shops, especially at the Harbor Walk and Duval, offering an assortment of artisan crafts, paintings and clothes aligned for casual window shopping. Boutique shops ares also found along the the Sunset Waterfront.
Best Buy
Anything coloured key lime
Excursions
Explore in a glass-bottomed catamaran.
Fly in an airplane tour
Visit Civil War Fort Jefferson.
Enjoy one of the city ghost tours.
---