Cities
Regions
Introducing Taiwan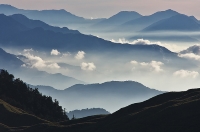 Taroko Gorge National Park © Mark Kao
Situated off the coast of mainland China, the mountainous island of Taiwan teems with people in massive urban developments, but at the same time hides some picture-perfect, breathtaking vistas and natural attractions. Jet into the airport at the capital, Taipei, and the island below greets you with majestic peaks, rolling hills and plains, basins and inlets, tropical beaches and green forests.
At the foot of the mountains cluster the crowded industrial cities and towns. Modern, high-rise buildings play backdrop to numerous traditional folk festivals, and ancient temples sit alongside glass-fronted boutiques in the bustling streets. Old and new live in harmony in Taiwan, and visitors will be enthralled as much by the bustling metropolis of Taipei as with the array of natural attractions throughout this relatively small island.
In the six national parks there are thousands of species of wildlife, 20 percent of which are rare or endangered, including the Mikado pheasant, the Hsuehshan grass lizard and the Formosan rock monkey. Unique experiences include taking a ride on the Alishan train, one of only three mountain railways in the world, and hiking up northeast Asia's highest mountain, Jade Mountain, and taking in the spectacular sunsets above a sea of clouds. With its volcanic origins, tropical climate and Polynesian flavour, Taiwan has deservedly been dubbed the 'Hawaii of Asia'.
Taiwan has long had an uneasy relationship with its larger neighbour, China. In 1684 the island became the refuge for the remnants of the deposed Ming Dynasty and when Mao's Communists forces took control of China in 1949 the nationalist leaders, and over one million supporters, fled to Taiwan. Economically, the island quickly became an Asian success story but its independence from China was never recognised by many governments - primarily due to the Republic's greater political and military firepower.