Introducing South Korea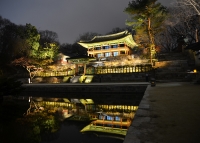 Cenote Ik Kil © Vicente Villamon
An intriguing land of ancient ruins, romantic legends, natural wonders, breathtaking landscapes and teeming modern cities, the Republic of Korea can trace its history back half a million years.
Tourists are discovering with delight the hidden treasures of the southern half of the mountainous Korean peninsula, which pokes southwards from the eastern end of the Asian continent. South Korea has been separated from North Korea by a demilitarised zone since 1953, and has flourished to become a stable and mature democracy, home to 50 million people who are spread across its nine provinces, concentrated in seven mega-cities. Previously dubbed 'the hermit kingdom', South Korea is now flaunting its bright plumage like a proud peacock.
Largest of the metropoles, and the area most frequented by visitors, is the capital, Seoul, the world's tenth largest city, where ancient shrines nestle beneath soaring skyscrapers. This seething city, ringed by mountains, offers hundreds of attractions and experiences, vibrant nightlife and unforgettable dining.
Another area rich in tourist attractions is the southeastern region, with its wealth of archaeological treasures. Gyeongju, ancient capital of the Silla Kingdom, is an open-air museum boasting tombs, temples, pagodas and ruins dating from as early as 57 BC. The Bomun Lake Resort, with its luxury hotels, is a fine base from which to explore the area. New resort complexes are currently under construction to open up this fascinating area even more to tourism.
The least populated area of the country is Gangwon-do Province, on the eastern side of the peninsula, where remote forested mountains and valleys are studded with small towns. This area, which played host to the Asian Winter Games in 1999, is fast becoming one of the world's most sought after skiing destinations. The rest of the year visitors are drawn to the province's magnificent beaches and scenic hiking trails.
Those seeking a romantic getaway should head for South Korea's resort island, Jejudo, known as 'little Hawaii' because of its subtropical vegetation, volcanic landscape, sandy beaches and sparkling waterfalls. The island is dominated by the towering Mount Halla volcano, but visitors need not fear a natural disaster - the volcano was last active in 1007.