Cities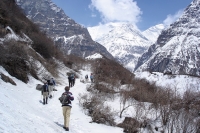 Trekking in the Annapurna region © Suraz03
Trekking is the most popular activity in Nepal and is the best way to experience the Himalayas. Most treks follow well-trodden foot trails that have been in use for hundreds of years, connecting mountain villages and hamlets.
Popular treks include the Annapurna Circuit and the hike from…
read more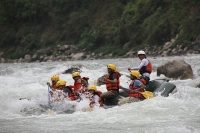 Rafting on the Bhote Koshi River © Anil Simkhada
From the heights of the Himalayas, rivers surge down the foothills and across the plains of Nepal and enable some of the most scenic, exciting, and challenging white water rafting experiences in the world.
The rivers present a variety of rafting opportunities suiting different experience…
read more