Cities
Regions
Introducing Laos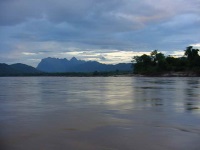 The Mekong © Chmouel Boudjnah
Laos Travel Guide
The mountainous, landlocked country of Laos is one of Southeast Asia's greatest tourist destinations: an unassuming, friendly land full of natural beauty and interesting cultural sites. Although not as developed, nor as established on the global tourism scene as its neighbours Thailand, Cambodia and Vietnam, it is in fact in this relative obscurity that the true beauty of a holiday in Laos resides.
The sleepy, languid nature of Laos' capital Vientiane is symbolic of the easy-going, relaxed atmosphere that permeates the entire country. Beautifully situated on the banks of the Mekong River, Vientiane is a thoroughly atypical Southeast Asian capital city, eschewing the modern trend of overdevelopment and westernisation in the name of tradition. Unmissable tourist sites in Vientiane include Pha That Luang, a gorgeous Buddhist temple, and Buddha Park, housing a wonderfully bizarre collection of both Buddhist and Hindu religious edifices.
However, the number one tourist destination in Laos remains the UNESCO World Heritage city of Luang Prabang. A mixture of authentic culture and modern convenience, in Luang Prabang monks in orange robes stroll past a curious mixture of traditional wooden houses and French colonial architecture, while a bustling cafe culture plays out on the banks of the Mekong and Nam Khan Rivers.
Although Vientiane and Luang Prabang are the most popular destinations in Laos, the countryside is also well worth exploring for adventurous travellers. Particularly in the south of the country, seemingly endless hiking trails explore dense forests and pristine waterfalls, and friendly villages make for perfect camp sites. There is a lot to see and do in Laos, and its laid-back atmosphere makes it a perfect destination for 'slow travel' enthusiasts.
Best time to visit Laos
Laos has a tropical climate, characterised by high temperatures all year round. The Monsoon Season (May to October) is slightly cooler, but very wet. The best time to visit Laos is between November and March, although this is high tourist season and so accommodation prices may be higher than they are at other times of the year. Between March and May Laos experiences a very hot season, with daytime temperatures often reaching 104°F (40°C). Read more on Laos's Climate and Weather.
What to see in Laos
- Vientiane's beautiful temple of Pha That Luang is Laos' national symbol.
- The deeply mysterious Plain of Jars (Phonsavan), a field scattered with hundreds of huge stone jars, is a fascinating day-trip from Luang Prabang.
- Buddha Park is an interesting open-air museum showcasing Buddhist and Hindu temples and statues.
- The Golden City Temple (Wat Xieng Thong) is one of the most impressive monasteries in Laos. Read more about Laos Attractions.
What to do in Laos
- Take part in the Morning Alms Ceremony in Luang Prabang, where monks in saffron-coloured robes walk down the main street of the village collecting alms for their daily consumption.
- Shop for bargains at the Morning Market (Talat Sao) in Vientiane.
- Strike out from Luang Prabang to the gorgeous Kuang Si Falls.
- Visit the charming town of Vang Vieng and the impressive limestone cave complexes in the nearby hills.
Getting to Laos
Cheap flights to Laos are easy to find from the US and UK, though direct flights aren't plentiful; most flights to Vientiane's Wattay International Airport are indirect flights. Get more information on Laos Airports.
Read
The Coroner's Lunch by Colin Cotterill
Watch
Sabaidee Luang Prabang (2008)
Eat
Try the national dish known as laap, a mixture of minced meat, herbs, spices, lime juice and chilli; as well as tam maak hoong, a spicy green papaya salad dressed with fermented crab and a strong fish sauce called pa daek.
Drink
Beer Lao, which is made from Laotian jasmine rice and is one of Laos' few beverage exports, and lao-lao, a cheap (and effective) rice spirit. Laotian coffee (kaafeh) is also very good.
What to buy
The best souvenirs from Laos are silk garments and traditional Laotian cloth, which can be tailored to make dresses and shirts very cheaply.
What to pack
Lightweight clothing, effective insect repellent and plenty of sunscreen should be packed for a holiday in Laos. Make sure you have a small backpack to carry with you on day excursions, containing a rain-slicker and bottled water.
What's on in Laos
Buddha's Birthday (Visakha Busa) takes place on the first full moon in May, and is celebrated in towns and villages across the country. Lao New Year (known as Bpee Mai or Songkan) is held in April, just before the Monsoon season, and is the most exuberant celebration of the year. Laos National Day (2 December) celebrates the proletariat's victory over the monarchy in 1975, and is commemorated by banners, parades and processions through the streets of Vientiane. More information on Laos Events.
Did you know?
- There are more Laotians living outside of Laos than inside the country.
- The stone jars found in Laos's mysterious Plain of Jars can weigh as much as three cars, 272 lbs (123kgs).
- The Khone Waterfall, on the border of Laos and Cambodia, is the largest waterfall in southeast Asia.
A final word
A quiet land, refreshingly bereft of modern bells and whistles, Laos is a wonderful destination for adventurous travellers looking to take a slow, rewarding trip through the best of what Southeast Asia has to offer.