Cities
Regions

show more Regions
Resorts

---

---

---

---

---

show more Resorts
Rhodes Port of Call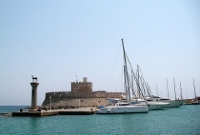 The Parthenon © Nathan Hughes Hamilton
Rhodes is the busiest tourist destination in the Dodecanese Islands, and one of the most popular cruise ports in Greece. With a rich history evident in the ancient and medieval buildings and artwork, cruise passengers of all ages will find something to wonder at in Rhodes.
Visitors can skip the new part of town, which is primarily unattractive high-rise buildings, and head straight to the winding streets of Rhodes' Old Town, which has a lively atmosphere and is full of shops, restaurants, tavernas, and historical sites.
The rest of the island holds attractions for cruise passengers as well, including the town of Lindos, declared a historic monument for its temples and churches and only 30 minutes away by car.
Cruise ships in Rhodes dock at the commercial port, within walking distance of the Old Town.
---
Contact
Rhodes Port Authority
+30 22410 28888
Transport
Rhodes is easily explored on foot. To get to the Old Town from the docks, go via St Catherine's Gate. Wear comfortable shoes, as the cobblestones are rough. If you want to find a bus or taxi, head into the New Town area where they are more plentiful.
Attractions
There are many attractions in Rhodes for cruise passengers to choose from. Shoppers and sightseers will enjoy strolling around the Old Town, while sun-worshippers can head straight to the beaches at Falaraki, Afandou, and Kalathos. The most famous attraction in Rhodes is of course the Acropolis of Rhodes, which sits on a hill in the western part of the city.
Restaurants
Tamam - tiny Greek restaurant with friendly service
Kerasma - modern Greek food near the famous 'Bar Street'
Restaurant Agalma - good meze and steaks on an out-of-the-way street
Best Dish
lamb kleftiko
Shopping
Some of the best shopping in Rhodes is concentrated in the Old Town. Shops spill into the streets, offering local wine, handmade lace and pottery, leather goods and products made from olive oil and olive wood. Good deals can be found at the Turkish bazaar on Soukratos Street. Note that many shops are closed from November to March when there aren't many tourists.
Best Buy
Thimati honey and handmade lace
Excursions
Visit the white-washed houses and ruins at Lindos
Hike to the temples and monasteries on Filerimos Hill
Laze in the sun or play watersports at Faliraki Beach
Take a tour of the city walls from the Rhodes Archaeological Museum
Explore Petaloudes, the valley of the butterflies