Regions

show more Regions
Ski Resorts

---
Introducing Germany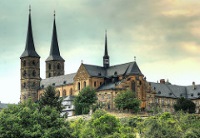 Michaelsberg Abbey © Thomas Depenbusch
Germany Travel Guide
Emerging from a troubled 20th-century history like a BMW with a re-tuned engine, Germany is now one of the most stable and progressive countries in the world, boasting one of the largest national economies in the European Union and an enviably high quality of life. It also happens to be a country that is home to an embarrassment of cultural riches, several truly cosmopolitan cities, a famous beer and wine industry, and 27 UNESCO World Heritage Sites.
Most foreign visitors to Germany choose to visit vibrant Berlin or cheerful Munich, but there are a wealth of other prime German tourist destinations as well, including several themed tourist routes that take in the country's gorgeous countryside, and which feature notable cultural assets such as Germany's wine routes, its historic castles, its famous Black Forest and more.
Top tourist sights and cultural attractions in Germany include the Cologne Cathedral, mercifully spared by the Allies during the bombing raids of WWII; the historic Brandenburg Gate; the remains of the Berlin Wall, a stretch of which is now the world's largest open-air art gallery; and of course the inimitable Oktoberfest, the planet's favourite beer festival. For those seeking high culture, Germany abounds with jazz clubs, concert halls and art galleries (such as Berlin's Gemäldegalerie); while those seeking a sobering and poignant experience can visit the Dachau Concentration Camp Memorial Site.
With something to offer everyone, from independent backpackers to discerning older travellers, family vacationers and everyone in between, Germany is a sure bet for an unforgettable European holiday.
Best time to visit Germany
There is no bad time of year to visit Germany as each season has its own charms and drawbacks. Spring (March - May) is a lovely time of year, full of warm days and a blooming countryside. Summer (June - August) is magnificent, with resplendent sunshine and long days, although this is high tourist season, and so airfares and accommodation prices are at their highest and queues for tourist attractions are long. Autumn (September - November) is great for festivals, including Oktoberfest; while in winter (December - February), airfares and accommodation prices plummet and Germany's famous Christmas Festivals provide warmth and cheer to stave off the snowy temperatures. Read more on Germany's Climate and Weather.
What to see in Germany
-The Cologne Cathedral is a sombre, imposing Gothic masterpiece that will leave an indelible impression on any visitor.
-The historic Brandenburg Gate is not just a great tourist site, but the very symbol of Germany's proud cultural heritage.
-The awesome size and grandeur of the Renaissance-era Heidelberg Castle is not to be missed.
-The Porta Nigra ('Black Gate') in Trier is a Roman structure dating back to the year 180 AD. Read more about Germany Attractions.
What to do in Germany
-Get your drinking arm in shape and take on stein after stein of local brew at Oktoberfest, the world's most beloved beer festival.
-Travel deep into the Bavarian mountains and visit the fairy-tale castle of Neuschwanstein.
-Rent a car and take on the Romantic Road, a suitably-named route that takes in the best of Bavaria, from rolling vineyards to medieval towns and historic castles.
-Go hiking, walking or biking through the Black Forest, and reward yourself afterwards with a piece of traditional black forest cake.
Getting to Germany
There are ample direct cheap flights to Germany available from a variety of British and American cities. Flights are cheapest in winter, late-autumn and early-spring, and far more expensive in summer, which is the chief tourist season. Get more information on Germany Airports.
Read
Buddenbrooks by Thomas Mann, The Reader by Bernhard Schlink, Absolute Friends by John le Carre, and The Bridge of the Golden Horn by Emine Sevgi Ozdamar.
Listen
Rammstein, Wir Sind Helden, Tokio Hotel, and Nicolaus A. Huber.
Watch
Run Lola Run (1998), The Reader (2008), Wings of Desire (1987), and Goodbye Lenin (2003).
Drink
Germany is world-famous for its beer and wine, with an inexhaustible selection of local brews and blends for tourists to try out.
Eat
Wursts (sausages) of various description are popular, as are kartoffels (crispy potato pancakes), sauerkraut (a cabbage-based side dish) and bretzeln (pretzels).
What to buy
Cuckoo clocks, chocolate and Bavarian beer mugs.
What to pack
When packing for Germany, tourists should bear in mind that German weather can be highly changeable. Make sure you pack clothes for all eventualities: a good coat, an effective raincoat, and some lightweight clothes for when the sun is out.
What's on in Germany
Bavaria's Oktoberfest (September/October) is the world's favourite beer-based cultural festival, drawing about six million visitors every year. The Berlin International Film Festival (October) is one of the industry's most highly respected festivals, with the world's best new cinema competing for the coveted Gold and Silver Bear awards. Berlin's Christmas Markets offer traditional German Christmas food and handicrafts. More information on Events in Germany.
Did you know?
-Every day, more than 300 different kinds of bread are prepared in bakeries across Germany.
-There are more football fan clubs in Germany than in any other country.
-70 percent of Germany's highways have no speed limit.
A final word
Whether you're looking for fun and trendy cities, gorgeous countryside or significant cultural sights, Germany has it all; it is one of the most versatile tourist destinations in Europe.