Places

show more Places
Cities

hide Cities
Halifax Port of Call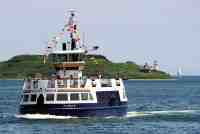 Moraine Lake, Alberta, Canada © Isruma
Boasting one of the largest harbours in the world, Halifax is the gateway to Atlantic Canada and sees hundreds of cruise ships each year. This bustling young town is the home of many college students and has a vibrant and colourful entertainment and nightlife scene as well as a rich and diverse history that can be felt while exploring the city.
Halifax has strong ties to the sinking of the Titanic as three of the city's ships formed part of the recovery team after the tragedy in 1912; headstones in three of the city's cemeteries bear testament to this. History buffs will love the Maritime Museum of the Atlantic as well as the Immigration Museum of Pier 21.
Passengers are greeted by Scottish bag-pipers since Nova Scotia is translated to 'New Scotland'. Cruise ships dock at one of the two piers at the harbour, but if there is more than one cruise ship at port, one may have to dock at the less convenient container terminal as there is only one cruise terminal. Ships docking at the container terminal require a shuttle transfer to the city.
---
Contact
Visitor Information Centre, Pier 22 Cruise Ship Pavilion, Halifax waterfront (open on cruise ship days only)
www.halifaxinfo.com
Transport
The waterfront is best explored on foot, but taxis can be easily hailed from outside the cruise terminal. Unfortunately there are no longer car rental agencies located at the piers and passengers will have to travel into the town to hire vehicles.
Attractions
There is plenty to keep cruise passengers busy while in Halifax, such as the Maritime Museum of the Atlantic, located on the waterfront; the Citadel National Historic Site; the Immigration Museum of Pier 21; the Nova Scotia Museum of Natural History; Province House; and St Paul's Church. The Halifax public gardens are also worth a visit. The Halifax waterfront is atmospheric, the city's nightlife is energetic, and many festivals and events fill the Halifax calendar.
Restaurants
Great Wall Restaurant - Szechuan and Cantonese cuisine in a cosy setting
Café Chianti - gourmet Italian and European cuisine with a fantastic wine cellar
Best Dish
Crab cakes and rum cake
Shopping
Cruise passengers will love the choice along the boardwalk, which runs alongside the harbour. The Historic Properties at Privateers Wharf, which dates back to the 1800s and is located on the boardwalk, comprises a four-acre (1,6 ha) collection of wooden and stone buildings that feature shops, restaurants, boutiques, and pubs. A great place for a spending spree!
Best Buy
Mouth-blown, hand-cut crystal
Excursions
Visit the Halifax Citadel for great views of the city
Head to Peggy's Cove for Titanic exhibits
Visit the UNESCO World Heritage Site of Lunenberg
Take a trip to McNabs Island
Visit the residential city of Dartmouth