Regions
Introducing British Virgin Islands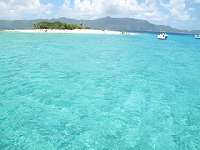 BVI © Fairphotos
Visitors to the British Virgin Islands will not be hard pressed to find out why they're nicknamed 'Nature's Little Secrets'. Abounding in natural beauty, the 36 islands making up the Caribbean archipelago (16 of which are uninhabited) have kept the effects of tourism at bay and offer unblemished beaches, numerous unspoilt anchorages, exotic fauna and flora and a relaxed, low-key lifestyle.
Situated about 50 miles (80km) east of Puerto Rico and just northeast of the US Virgin Islands, the islands and cays that make up the British Virgin Islands are clustered around the Sir Francis Drake Channel, which is renowned for its sheltered, crystal clear waters. Its location has made the archipelago a popular destination for yachting enthusiasts, and the islands are known as one of the best and safest sailing destinations in the world with reliable trade winds, near-perfect weather and a choice of secluded and intriguing bays to visit.
The largest island, Tortola, is the yachting capital of the Caribbean and the territory's main commercial centre; it has beautiful mountainous slopes endowed with tropical fruits and flowers. Tortola is an ideal base from which to explore some of the other inhabited islands such as Virgin Gorda, noted for its spectacular geological formations and one of the British Virgin Islands' most famous landmarks: The Baths. Travellers in search of a remote and rustic retreat, with the smell of freshly baked banana bread and the sounds of calypso music in the air, should head for the friendly beach haven of Jost Van Dyke; and the reefs surrounding Anagada's low-lying coral atoll and its miles of deserted white beaches shouldn't be missed by divers, snorkellers and sun worshippers. Besides these major islands, there are also dozens of secluded islets and cays to explore, each blessed with its own special charm and unique beauty.