Regions
Introducing Bhutan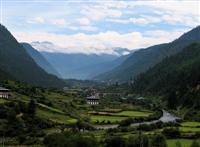 The Haa Valley © Greenmnm69
Imagine a land hidden from the world for centuries, a pristine natural environment free of pollution and crime, guided by an official policy known as Gross National Happiness.
Welcome to Bhutan, known to its people as Druk Yul - Land of the Thunder Dragon. Situated in the remote Himalayan mountains, with India and China its only neighbours, Bhutan is one of 10 biodiversity hotspots and the only remaining Mahayana Buddhist kingdom.
The scenic majesty of its soaring mountains and pristine valleys, coupled with the vibrancy of its cultural life, makes Bhutan one of the last undiscovered destinations; an adventure to feed the soul and enrich the senses.
Bhutan's iconic sight is Tiger's Nest Monastery, built into a cliff face 2,950 feet (900m) above the ground near the city of Paro. Another key attraction is Trongsa Dzong, the ancestral home of the royal family. Trekking and mountain biking are popular attractions too, as are the many Buddhist festivals that bring out the extroverted side of these famously friendly people.
It is at times a wonderfully strange place: the walls of many buildings are emblazoned with drawings of giant penises - an invocation of good luck and fertility. All new structures must follow the ancient style and people are obliged by law to wear traditional dress in public. Monks have broadband access, and cigarette sales are illegal. And, uniquely, 70 percent of the land is owned by women as inheritance is matrilineal.
Bhutan remained closed to the outside world until the 1960s when its borders slowly began opening. Tourism is based on a high value, low volume principle in a bid to avoid the destructive effects of mass tourism suffered by Nepal and India. Visitors must spend a minimum of USD200 per day on a pre-determined itinerary, a strong deterrence for budget travellers. Therefore, visiting Bhutan is much easier through a registered tour operator.
Under the guidance of the current monarch, the splendidly named King Jigme Khesar Namgyal Wangchuck, Bhutan is slowly changing as its economy matures and its fledgling government engages more with the world. Improved communications and widespread internet access is affecting the younger generation and exposing them to the exciting though uncertain world beyond the borders of this, the last Shangri-La.