Regions
Introducing Benin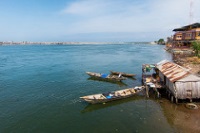 Benin is one of the best kept secrets in West Africa. One of the safest and most stable countries in the region for traveling, Benin reveals spectacular scenery and wildlife, fascinating history, and ancient traditions.
The country is the birthplace of the Voodoo religion, evidenced by an abundance of Voodoo temples and 'fetish' markets dotted throughout the country. The region was known as the Slave Coast from the 17th century onward before slavery was abolished and France took control. Independence came in 1960 and despite a few tumultuous years, today the country enjoys a low profile marked by peace and poverty.
Cotonou, the largest city and economic centre, still displays its colonial heritage. The city has its own Boul' Mich (Boulevard Saint-Michel) and it is not uncommon to see Beninois locals walking around, baguette tucked under one arm and a French newspaper clutched under the other.
Porto Novo, the smaller capital city, is one of West Africa's more pleasant capitals. The Royal Palace features a museum documenting the life of African royalty, and local 'Adjogan' music can be heard throughout the city.
The city of Abomey was the capital of the powerful Kingdom of Dahomey, as Benin was formerly known. The ruined temples and royal palaces are now a UNESCO World Heritage site. Relics of this proud and intriguing culture are on display in the Abomey Historical Museum, complete with macabre tapestries and even a throne of human skulls. The historic sites in Ouidah are also worth visiting, including the Portuguese fort and the Temple of the Sacred Python.
There is a network of lagoons and swamps to be found along the Atlantic coastline. These connect the rivers and big lakes such as Lake Aheme and Benin's longest river, the Oueme, and they are navigable throughout all seasons. The beaches along the coast, at Ouidah and Grand Popo, are also a major draw for tourists.
The northwest region of the country is wild and beautiful, ruled by the Atakora Mountains towering as high as 3,000 feet (914 metres) and offering wonderful hiking opportunities. The two main tourist attractions are the wildlife reserves, Pendjari National Park and 'W' National Park. These are considered among the best in West Africa for wildlife viewing.