Cities
Introducing Bahrain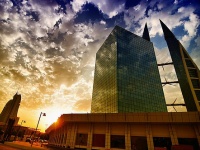 Bahrain before sunset © Harold Heindell Tejada
Sophisticated, modern and cosmopolitan Bahrain, a kingdom of 33 islands in the Arabian Gulf, is welcoming an increasing number of international tourists who come to experience the country's fascinating blend of eastern and western cultures. Manama, on the main island, boasts excellent hotels, restaurants, shopping malls, an intriguing souq (bazaar) and all the other facilities visitors need for a great holiday. In addition, there are decent beaches, perennially hot and sunny weather, English is spoken and understood everywhere, and the kingdom has the remnants of more than 5,000 years of civilisation to be explored. Its future as a popular holiday destination for westerners seems assured.
Back in the mists of time Bahrain was attached to the Arabian Peninsula. Nature separated it from the mainland, but man has now rejoined it with a 16-mile (25km) long causeway linking it to Saudi Arabia. During construction of the causeway and a new road network, the islands' archaeological significance came to light with the discovery of thousands of burial mounds dating from the third millennium BC, part of the well-ordered ancient city of Dilmun that existed where a forest of skyscrapers now reaches for the sky.
Throughout its history Bahrain has been prosperous, first on the strength of its good position for trade and fishing, and the abundance and quality of the pearls found in its waters, and more latterly because of its oil resources.
Though the government is less stable than in years past, Bahrain is still growing as a popular tourist destination in the Middle East. A visit to Bahrain, whether on business or pleasure, is an interesting, relaxing and rewarding experience.