Regions
Introducing Armenia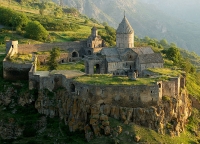 Tatev Monastery © Alexander Naumov
Historically, culturally and scenically the Republic of Armenia is a captivating destination. Not only has it been acknowledged as a cradle of civilisation with centuries of ancient history to unravel, but it also boasts natural attractions aplenty and is spoilt for beauty.
Armenia was one of the first countries to adopt Christianity as its official state religion, around the year 300, and many of the country's surviving ancient monuments are Christian churches and monasteries. Mount Ararat, in Turkey, was once within the borders of Armenia before the area was divided between Turkey and the USSR, and is believed to be the site of biblical Noah's landing of the ark following the great flood. Armenians still consider the mountain, the highest in the region at 16,946 feet (5,165m), to be a symbol of their land, and it features on their national emblem today. The story of Noah's Ark is important in Judaism, Christianity and Islam.
The tiny landlocked country of Armenia is part of the Southern Caucasus region, sandwiched between Europe and Asia and between the Black and Caspian Seas. Present-day Armenia occupies but a fraction of the ancient Armenia, and was once a republic of the Soviet Union. Its capital, Yerevan, is one of the world's oldest cities, established years before the founding of ancient Rome.
Armenia is largely mountainous and very picturesque. The countryside is riddled with small lakes, and also boasts one of the world's biggest mountain lakes, Lake Sevan. The mountains are also home to health spas and treatment centres, and the Tavush region is known for its healing mineral waters, with resorts such as Ijevan and Dilijan popular treatment centres.
The Kotayk region boasts some of Armenia's most spectacular scenery and is a popular destination for local and foreign tourists. The resort of Tsakhkadzor ('canyon of flowers') is most popular in winter, with excellent skiing. Visitors to the Syunik region will find beautiful scenery and natural springs, as well as sights like the Tatev Monastery, the Stonehenge of Armenia (Karahunj), Goris and the Shaki Waterfall. To the north, the Lori region is sought out by campers and hikers, but also boasts two UNESCO World Heritage Sites, the monasteries of Sanahin and Haghpat, as well as the Odzun Cathedral. East of Yerevan lies the spiritual centre of Armenia, the Holy See of Echmiadzin, the most significant cathedral in the world's oldest Christian nation.