Introducing American Samoa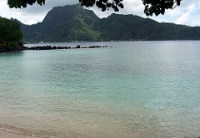 American Samoa © Ben Miller
Aptly named 'The Heart of Polynesia' and nestled deep in the Samoan Archipelago, where the warm tropical waters of the South Pacific Ocean greet white palm-fringed shores, lies the hidden treasure of American Samoa.
Inhabited as early as 1000 BC by Polynesian navigators, Samoa was 'discovered' by European explorers in the 18th century and occupied by the US in 1900. Not to be confused with Western Samoa, American Samoa comprises six islands located in the Samoan Archipelago halfway between Hawaii and New Zealand and while there is a strong American influence in the islands, American Samoans proudly retain their cultural heritage.
The main island of Tutuila is mountainous and wonderfully scenic with good hiking in the National Park of American Samoa. Transport round the island is cheap and buses operate from the market in Fagatogo. There's the usual list of attractions including waterfalls, villages, native wildlife, beaches, and archaeological sites to see here. It is also home to the capital and only port of call, Pago Pago, which is both an entertaining and informative village and the US-style stores, restaurants and bars are a refreshing change for anyone who has been travelling the Pacific islands for long.
Boasting some of the most breathtakingly beautiful beaches anywhere in the South Pacific, and a warm and humid climate, there's plenty of time to explore the biodiversity of marine life found off the shores of the American Samoan islands. One such place is Fagatele Bay National Marine Sanctuary, a tropical reef displaying flamboyant tropical fish, crabs, lobster, sharks and octopus offering exciting snorkelling and diving. The National park of American Samoa, which is essentially three parks laid out across four extinct volcano islands, also offers visitors some of the best scenery for miles and is worth the visit.
The weather is warm, the people hospitable and the country exquisitely beautiful. The memory of American Samoa is one that will certainly be relived for years to come by those who visit this wonderful country.