Mammoth Mountain Travel Guide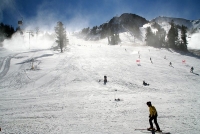 Golden Gate Bridge © RyanJWilmot
Just five hours drive from Los Angeles, three hours from Reno, or a short distance from San Francisco, lies some of the finest Alpine skiing in the world at the holiday resort of Mammoth Mountain, on the eastern edge of California's Sierra Nevada range. Every year an average of 400 inches (10m) of snow falls on the summit, providing about 3,500 acres of skiable terrain, which can be revelled in by all, beginner to expert, during the November to June season. Despite all the snow, 70 percent of Mammoth's winter days are sunny, providing plenty of time to enjoy the slopes and numerous other facilities at this well-equipped holiday resort, which offers hotel and condominium accommodation.
Mammoth Mountain caters to all levels of skiers and snowboarders, from steep chutes, moguls, tree skiing, wide open bowls, beginner trails and wide well groomed slopes. Mammoth Mountain is as big as its name implies with 3,500 acres of terrain and a vertical drop of 3,100 feet (945m), 150 named trails and 27 lifts. Snowboarders can also enjoy three unbound terrain parks with halfpipes, a quarter pipe and jib park.
Mammoth Mountain has an interesting and varied selection of stores that will keep holidaymakers and shop-a-holics enthralled. There are several art galleries, a souvenir shop called 'Mammoth Memories' selling branded items, sports equipment outlets, designer boutiques and even a store that sells Christmas decorations and goodies all year round.
The village of Mammoth Mountain itself has plenty of dining options, and holidaymakers who are able to reach further afield will find the surrounding area has dozens of restaurants to choose from, whether it's a quick burger you seek or a full course dining experience. Some of the favourite spots are the Yodler, the Mill Café at the base of Stump Alley Express, and The Canyon Lodge on the mountain. Try the Lakefront Restaurant at Tamarack Lodge for delicious California French cuisine, and the Dry Creek bar also has a good menu.
Après Ski in Mammoth Mountain begins around 3pm each day when the first thirsty skiers and holidaymakers run straight to the door of the Yodler. Later, visitors head for the local 'in' spots like the Hawaiian flavoured Lakanuki bar/club. Sporting types (and visiting Brits) enjoy Grumpy's, a comfortable pub with pool and football tables. The Clocktower Cellar Pub and the Side Door Café are also popular night spots.
There is a very pleasant pattern to the days spent in the Mammoth Mountain resort area: holidaymakers can start after a hearty breakfast with a cross-country ski trail, snowmobile excursion, dog-sledding, tubing, ice-skating or anything else you can find to have fun with in the snow. After lunch take a wander through the pretty village, exploring the outlet stores, or perhaps be cosseted in a day spa or fitness centre. Watch a movie at the local theatre before hitting the pubs for the start of the après ski fun.
---