Regions
Lech Travel Guide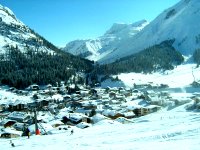 Austrian village Ehrwald © Octagon
The holiday resort of Lech, in the beautiful Arlberg mountain range, boasts a reliable annual snowfall that attracts those (who can afford it) to this charming little hamlet. The loyal clientele of this celebrated resort look forward to the energetic nightlife as much as the excellent skiing, and there is always the possibility that visitors may find themselves mingling with celebrities and royalty. Together with neighbouring Zürs, Lech is perhaps Austria's most exclusive ski resort. Between them Lech and Zürs boast a number of four and five star hotels to accommodate visitors. Despite its reputation for luxury Lech remains a picturesque traditional Austrian village. The resort has sprung up around an old farming village set in a high valley, and even now the settlement is sometimes cut off from the outside world when there is heavy snowfall.
Although easily as popular for just hanging around the base, this part of the Arlberg Range, together with Zürs, boasts some of the best intermediate skiing to be had in Europe. There may not be as many challenging pistes for experienced visitors, but there are extensive off-piste options. Snow reliability is one of the main contributing factors to the success of this resort that, at 4,840ft (1,450m), offers skiers and riders the chance to ascend to almost 9,380ft (2,811m). Lech is also home to the famous White Ring, which takes skiers on something of a tour through the area, boasting some spectacular scenery, and is also the longest ski race in the world.
Lech is linked by lifts and ski runs to the higher Zürs slopes, and a new gondola connects Lech to the pistes of Warth and Schröcken to the north, which doubles the available skiing area. There is also easy access by bus to the slopes of other nearby Arlberg resorts.
The ski school in Lech is particularly good; however, classes often fill up early in the season with a number of private tutors being booked all winter.
Shopping is surprisingly limited in Lech, and even more so in Zürs, considering both their reputations as fashionable resorts. Most of the shops are to be found on the Hauptstrasse, including major winter sports stores which sell all the latest branded equipment as well as souvenirs, trinkets and traditional Austrian clothing. Visitors will find everything they need in Lech, but it is not really a destination for shopping sprees. No doubt this lack of extensive shopping outlets helps to preserve the charming traditional atmosphere of the two alpine villages.
There is an appetizing amount of dining to be enjoyed while on holiday in Lech. There are more than 50 restaurants in town, most in hotels. Some of the most popular are Hûs Nr 8 and Rote Wand for traditional Austrian food, Don Enzo Due for pizza, and Fux for modern Asian fusion cuisine. Balmalp serves food like pizza and ribs, and enjoys stunning views of the valley. Zürs has a similarly good restaurant scene, with numerous upmarket options.
The après ski in Lech is world famous and many holidaymakers staying in Zürs venture out to sample some of the atmosphere (there are regular buses connecting the resorts). The Tannbergerhof is a great place to spend the night dancing away to music, alternatively there are the two hotels Burg and Sonnenburg, which attract mixed crowds for teatime. The fancy Hotel Krone lures well-dressed clientele, as does the Hotel Arlberg, and both host some great discos. The champagne bar at the Hotel Montana is also a very popular after-ski stop.
In the general area, including Lech, it is possible for holidaymakers to go snowshoeing, sledding, hiking, ice skating and even play tennis or squash. The resort is home to many wonderful upmarket hotels, which all boast very good spa and entertainment facilities.
---
Lech is expensive by Austrian standards. There are also limited challinging pistes.