Paros Travel Guide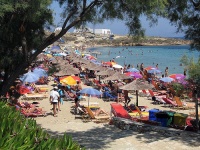 The Parthenon © Nathan Hughes Hamilton
Paros is one of the larger islands of the Cyclades and is becoming a popular holiday spot as a spill over from the busier islands of Mykonos and Santorini. Its main draw cards are good sandy beaches and old world traditional fishing villages, which come with reasonably priced hotels and a vibrant nightlife. Paros claims to be the windsurfing capital of Greece, and kite surfing and scuba diving are also popular watersports.
Paros island's main port is Parikia, which has a ruined Venetian castle and an impressive Byzantine church among its white-washed buildings, and a couple of lively jazz clubs. The resort town of Naoussa on the north coast is close to the island's best beaches with the majority of its nightlife centred around the waterfront. Lefkes, in the centre of the island, has a number of tavernas along its pretty winding streets. On a separate island section, known as Antiparos and separated from the larger section by a channel, is an interesting chapel cavern and more lovely beaches.
Paros is a great choice if you are keen to do some island hopping and explore further afield because it offers many ferry connections and is near to a number of famous islands and attractions.
Historically, Paros was famous for the fine white marble quarried on the island (people still use the term 'Parian" to describe fine marble and china of a certain kind). Visitors may well find some beautiful marble work on Paros. Other popular souvenirs are leather work, shells, embroidery, and wooden sculptures. Parikia, the main town, is also the best place for shopping on the island. There are lovely little galleries selling art and some quite original little stores but for those who just want simple items there are also the usual array of tourist shops and grocery stores.
There is a good variety of places to eat out in Paros, but the best food is local and traditional. Seafood is, unsurprisingly, often the best choice. Visitors can easily find a place to do some plate smashing if the mood takes them.
The nightlife buzzes on Paros during the summer season and there are numerous bars and clubs to choose from as well as some good traditional forms of entertainment like Greek music and dancing. Naoussa village has a particularly fun party scene, and Santa Maria beach is an almost 24-hour party destination which aspires to be a small-scale Ibiza. Although there are mini hubs of activity, Paros is essentially a relaxed island and its nightlife, while fun, can't compare to the famous Greek party islands like Mykonos.
Paros is very picturesque with lovely old towns with winding cobbled streets and whitewashed buildings. In fact, Paros looks just as one would expect a Greek isle to look, to the delight of visitors. Lefkes, Maoussa and Parikia are all charming villages to explore and quad bike riding or horse riding is a popular way of getting from place to place.
Paros is most famous for its beaches, which range from remote and quiet to extremely crowded party hubs. The island is well-suited to windsurfing and several competitions are held here. Kolymbithres beach is lauded as the most beautiful beach on the island, but the most popular is Santa Maria, where there is always something to see and do. Monastiri beach is also gorgeous.
---
Paros can get very crowded and is becoming increasingly popular as an island destination, which may not suit those seeking peace and relaxation.