Rhodes Town Travel Guide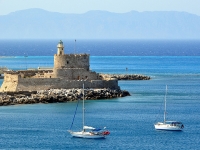 The Parthenon © Nathan Hughes Hamilton
Fun in the sun while on holiday in Rhodes Town on the north point of the island centres on the UNESCO World Heritage-listed walled medieval city that clusters around the ancient harbour of Mandraki. This ancient labyrinth of narrow streets and alleyways constitutes a tourist's paradise, with all the required trappings for a good time, including an art gallery and several museums.
Rhodes Town is a wonderful resort area for those interested in history and archaeology as it holds treasures from ancient Greece as well as remnants of the Byzantine legacy. The Turkish occupation of Rhodes is commemorated with a Venetian-styled Byzantine mosque, the Mosque of Suleiman, and the popular and well-used Turkish baths, in a 7th-century Byzantine building.
The sprawling new town houses most of the travel agents, bars, discos, nightclubs, and numerous tavernas, and is best explored at night. The long stretch of beach in Rhodes Town is popular during the day with holidaymakers and has deckchairs, umbrellas and showers available.
Apart from its many historical wonders, Rhodes Old Town offers some exciting shopping: the medieval and charming look of the old streets complements the traditional wares in the numerous shops and stalls and there is something for everybody, from traditional local jewellery to pottery. Rhodes Old Town also provides a range of modern souvenirs and antique goods. You can buy good Greek wine and traditional Greek olive oil, among other foodstuffs. In Rhodes New Town there are plenty of high-end and designer shops for those who want to shop in earnest.
Rhodes has everything from the quaintest traditional eateries to Starbucks; its popularity has ensured a vast variety of restaurants. The range of restaurants ensures that visitors can indulge in fine dining or keep things budget-friendly.
As one of the liveliest and most popular islands in Greece, Rhodes provides a varied nightlife with dance clubs, bars and bouzouki clubs. Additionally, there are a number of dance theatres for those looking for a different type of entertainment. Faliraki resort has a famous party scene and is very close to Rhodes Town; although, the Rhodes New Town will attract many revellers in itself. For those who want to stick to the atmospheric Old Town there are many great restaurants and traditional entertainment venues in this area and it is a joy to explore at night.
Rhodes Town has a lot of historical attractions for visitors. The Street of the Knights is particularly intriguing, following the course of an even older track that once led from the Acropolis of Rhodes to the harbour, where stood the legendary Colossus. It now features buildings that were constructed in the 16th century as clubs for Knights belonging to the Order of St John. Each was the inn of a different 'tongue' (the knights belonged to different national groups) and the facades of the buildings reflect the relevant architectural details. The Byzantine remains, including the mosque and Turkish baths are also fascinating.
When visitors tire of historical sightseeing they can retreat to one of the lovely beaches nearby. Scuba diving and surfing are popular watersports and there are many other forms of watery fun to choose from.
---
The only real downside of this exceptionally interesting town is how crowded it gets in summer; if you cannot abide crowds you will not enjoy a summer holiday here. It can also be a bit confusing to find your way around Rhodes Town, which is infamously labyrinthine.
Things to see in Rhodes Town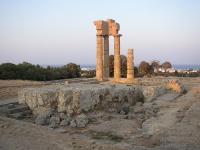 The ancient Hellenic acropolis of Rhodes sits high on a hill in the western part of the city, and once consisted of a…
read more