Port Louis

---

---
Grand Baie Travel Guide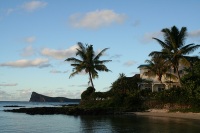 Mauritius sunrise © Smpadte
The seaside village of Grand Baie (Grand Bay) is the most developed resort area in Mauritius and one of the most popular tourist destinations on the island. In fact, the tourist boom has begun to overrun the small town, and the peak season of December and January can be unpleasantly crowded, though the buzzing nightlife in this period is enjoyable for younger travellers. In fact, one of the main reasons to visit Grand Baie is the variety of restaurants and shopping, second only to Port Louis. Despite its popularity it is still possible to find more secluded and peaceful spots along the coast, and the development in the area has not destroyed the natural beauty of the place. The beaches in Grand Baie offer a good setting for watersports like scuba diving, snorkelling and sailing and the tourist hub has all the facilities travellers might desire. Accommodation is wide-ranging and there are both budget and luxury options. Public transportation in Grand Baie is very good.
Outside of Port Louis, Grand Baie is the best shopping destination on the island and visitors will find plenty of shops and stores selling souvenirs and local arts and crafts. There are supermarkets for the self-caterers.
Grand Baie is bursting with restaurants and bars and there are a variety of cuisines on offer to suit a variety of budgets.
The nightlife is a big drawcard for Grand Baie, and definitely the best to be found in a Mauritian resort. The clubs and bars buzz until the early hours during peak season. Two favourites, with multiple dancefloors, are Buddha Club and Star Dance.
Water activities include yachting, glass-bottomed boat trips, undersea walks, sea kayaking, scuba diving, snorkelling, waterskiing and fishing. There are plenty of fun land activities as well, and for those looking for a thrill there is even skydiving.
---
Some visitors find Grand Baie too developed and commercial to be authentically Mauritian.