Port Louis

---

---
Flic En Flac Travel Guide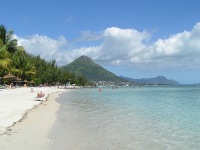 Mauritius sunrise © Smpadte
Once a small fishing village, Flic en Flac has grown to become one of the hottest tourist spots in Mauritius. Located on the west coast of the island and linked by road to Port Louis, the town's long and beautiful white sand beach is protected by a lagoon that makes it perfect for watersports like waterskiing and scuba diving, and there are great dive sites including caves and wrecks nearby. Accommodation in Flic en Flac caters for all budgets with a good selection of self-catering accommodation and some stunning luxury hotels. There is a golf course, a casino and a dive centre. This is a sprawling, highly developed resort and not a deserted beach paradise, but there is still plenty of beauty on offer and the extensive amenities are attractive to some travellers.
Tourists will find plenty of little souvenir shops and stalls along the beach and there is a big supermarket for self-caterers. Many hotels have their own shops. There is also a pharmacy, an internet cafe and a shopping centre.
There is a large selection of restaurants in and around Flic en Flac, with some impressive high-end hotel restaurants and lots of cheaper options for budget travellers.
Flic en Flac is one of Mauritius's most developed and popular resort areas and the nightlife is more exciting than at most of the smaller, more secluded resorts. There are a number of popular bars and even a casino, many of the hotels have their own clubs, and Port Louis is just a 30-minute drive away. However, Flic en Flac is not yet as big a party resort as Grand Baie and those in search of a pumping holiday clubbing scene may still be disappointed.
Flic en Flac is great for lovers of watersports and visitors will find that it is possible to try most fun water activities along the stretch of beach, including waterskiing, boating, fishing and diving. Although Flic en Flac was once a great snorkelling destination, the coral reef has seriously degraded over the years; however, it is still a good scuba diving destination. There are lots of fun land activities too, like volleyball and tennis. The long beach is perfect for walks and the protected lagoon area ensures peaceful and safe swimming conditions.
---
On weekends the beach can become a bit crowded and dirty.
Things to see in Flic En Flac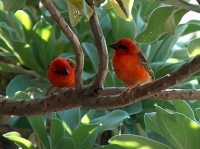 Home to nearly 150 species of birds, including ostriches and flamingos, Casela Park is a paradise for birdwatching in…
read more