Huvafen Fushi Travel Guide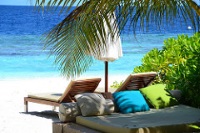 Maldives © Andrew Shiva
The picturesque island of Huvafen Fushi ('Dream Island'), formerly known as Nakatchafushi, is an extremely photogenic holiday destination, set within its own lagoon and ideal for watersports such as scuba diving and snorkelling, or more relaxing activities like sunset cruises and fishing. The private resort island in the Maldives caters to the luxury end of the market and is located in the North Malé atoll, about 15 miles (24km) from the airport. Forty-three modern bungalows surround the lagoon, each one with a private pool along with modern comforts such as plasma TV screens and private bars. What sets Huvafen Fushi apart as a resort is the special touches: the ocean bungalows have glass floors, the spa features the world's first underwater massage treatment rooms; they seem to take luxury and novelty one step further.
There is a boutique at the resort selling some local arts and crafts for souvenirs and things like swimwear and sarongs for those who don't come prepared, but shopping is very limited. As with most Maldivian resorts, guests are encouraged to visit the capital if they want to go on shopping sprees.
Huvafen Fushi prides itself on its extensive wine cellar, making it a good choice for those who love their tipple. There are three restaurants on the island and the menus are heavily influenced by Vietnamese, Italian, Japanese and modern Asian cuisine, as well as local flavours. One of their restaurants, the aptly named Raw, serves only raw cuisine, another specialises in seafood, and the third in top quality international meals. All dietary needs are catered for.
This is not a party resort and the nightlife is limited to organised cultural events and live music concerts.
Huvafen Fushi is situated in an area that is pleasantly devoid of heavy boat traffic, which is one of the reasons it is well-known for its dive sites. The resort offers a number of world-class sites and caters for beginners and experienced divers. The snorkelling is also wonderful (they have special nighttime snorkelling opportunities). They also offer some fishing and sailing and a number of cruises. There is a spa, a gym and a yoga pavilion.
---
The resort has received some poor reviews for service, although nobody can fault it on luxury.