Zakynthos

---

---
Laganas Travel Guide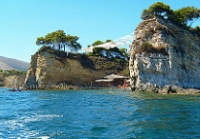 The Parthenon © Nathan Hughes Hamilton
The hottest spot on the Greek island of Zante (Zakynthos), particularly with the British 18-30 party crowd, is the holiday resort of Laganas, situated on Zante's southwest coast. The resort boasts one of the longest beaches in the Mediterranean, with five and a half miles (9km) of golden sand, washed by warm, translucent waters. The beach is a conservation area for about 1,300 loggerhead turtles that nest on it each year, and visitors are asked to take care not to disturb the nests. This is also the reason for the ban on watersports on Laganas beach. The beach is lined with hotels and apartment blocks, and the town is crammed with restaurants, bars and nightclubs. Having been turned into a holiday fun-spot, there is not much of the traditional Greek island atmosphere left in Laganas, but just a little way out of the resort one can still find authentic Greek villages and peaceful countryside.
Laganas abounds with shops for holidaymakers to enjoy browsing through, from grocery stores where self-caterers can find all they require (including favourite British brands) to hundreds of souvenir shops that line the main street. Good buys include jewellery, leather goods, designer clothing and local crafts. Don't miss out on the delicious fresh bread and sweet pastries from local bakeries.
Laganas is positively awash with a huge range of restaurants for holidaymakers to enjoy, including snack bars and fast food outlets offering all sorts of cuisine from curry or kebabs to pizza or pies. Of course most visitors prefer to go Greek, and there are tavernas aplenty offering delicious Greek dishes. There are some snack bars which stay open all night, providing refreshment for hungry party animals in the early hours.
On summer nights Laganas seethes with party people and holidaymakers filling up the numerous bars and clubs. Reputable DJ's spin all the popular R&B and hip-hop tracks from late night through to the small hours and beyond. Dance clubs, British pubs, cocktail bars and karaoke bars are all available in quantity.
Laganas is dedicated mainly to fun, sun and partying, but there are some very worthwhile scenic and cultural excursions to undertake from the holiday resort. Boat cruises around the island, particularly to view the turtles at the east end of the beach, and to visit Zante's extraordinary sea caves, are very popular. Holidaymakers can also easily access Zakynthos town to explore some museums, historic sites and churches and enjoy a shopping expedition. Watersports are not offered at Laganas beach, but a regular shuttle bus carries visitors to nearby Agios Nikolaos beach, where it is possible to indulge in a variety of aquatic pursuits.
---
Laganas is one of the biggest and busiest resorts in Greece, and holidaymakers looking for a quiet, traditional Greek island will be disappointed. The beach is always jam-packed in the height of the season, and the resort is continually full of noise and commotion. Many visitors have complained about over-insistent touts outside clubs and restaurants, and some have reportedly been misled on the quality of their accommodation. There are no watersports offered at the resort because of the nesting loggerhead turtles on the beach.