Kos Town Travel Guide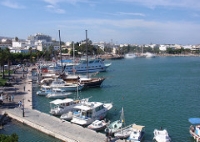 The Parthenon © Nathan Hughes Hamilton
The ancient port and popular holiday destination of Kos, the capital and major town on the island, has been home to Egyptians, Romans, Venetians, Ottomans and the Knights of St John. Their marked presence can be seen in the ruins of the Roman baths and amphitheatre remains and in the 15th-century castle, built by the Knights of St John, which still stands as a supreme sentry today.
There has been much development over recent years, with apartment blocks stretching out to the suburbs of Lambi and Psalidi (to the north and south respectively); however, Kos remains a fascinating and cosmopolitan town with a good mix of culture and entertainment attracting thousands of holidaymakers each year. There is a busy nightlife with no shortage of bars and a hotchpotch of restaurants from English-style cafes to local tavernas, many situated around the old harbour area overlooking traditional fishing boats and sleek yachts. The main beach in town is a fairly narrow, shingle affair packed with beach chairs and umbrellas, but there are better beaches a short bus journey away. Kos Town is perfectly situated for taking boat trips to Turkey and the nearby islands.
As one would expect, Kos Town is the major shopping destination on the island of Kos. There are a number of souvenir shops along the seafront and in the old town, and a market in the centre of town selling spices, olive oil, and seashells. There is also a small indoor market, but the main shopping area is found between Eleftherias Square and ancient Nymphaion. Popular souvenirs include jewellery, leather goods, and clothing.
There are many restaurants in Kos clustered along the waterfront and around the main square, ranging from traditional Greek to Italian and Chinese. For the unadventurous it is easy to find simple British and American staples.
There are bars, pubs and tavernas scattered all over Kos Town, but the aptly named 'bar street' is the place to go at night. The party lasts until dawn in the warmer months, and offers an eclectic mix of music, from local bouzouki orchestras to thumping electronic beats.
The main beach in Kos Town is narrow and pebbled, but nearby Tigaki is six miles (10km) of pure white sand. Lambi, Psalidi, and Agios Fokas are all popular beaches in easy distance. The beaches offer a range of watersports, including waterskiing, parasailing, and banana rides. The town also boasts a number of historical and cultural attractions, including the Hippocrates Tree, Knight's Castle, and the Archaeological Museum. You can also visit nearby villages with interesting sights like the ruins of old Pili and the ceramics shops in Zia.
---
The nearest sand beaches are several miles from town, and the nightlife can be overwhelming for tourists looking for a quieter holiday.