Kardamena Travel Guide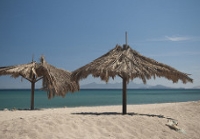 The Parthenon © Nathan Hughes Hamilton
Situated mid-way along the south coast of the Dodecanesian island of Kos, Kardamena is one of the most popular resorts in Greece, particularly with young Brits looking for a lively and entertaining holiday. Once a small fishing village, the town is now very commercialised with scores of English-style pubs and restaurants, and tightly packed apartment blocks. A wide variety of watersports can be organised from the long sandy beach and the Kardamena resort is well-placed for those who want to explore the island's fascinating interior.
Kardamena is packed with shops offering everything from designer clothes to tacky holiday souvenirs. Most are located around the main square. Good buys include the local jewellery and sponge (from the Nisyros volcano). For those in self-catering apartments, there are some good supermarkets offering most of the well-known brands. The two largest, both called Louis, are situated in the main square and by the bridge at the top of Main Bar Street. There are also some interesting local markets, including one on Bodrum, across the water in Turkey (Tuesdays).
There is a wide choice of restaurants in Kardamena to suit all tastes, from Indian and traditional Greek to fast food joints and cafes offering full English breakfasts and Premiership football. Even those with a penchant for good home food should try the local fare, at least once. Many of the best Greek restaurants are clustered on the seafront.
It's not quite Ibiza, but the nightlife in Kardamena is still fairly intense, with dozens of bars and clubs catering to all musical tastes, from indie classics to cheesy pop. The main nightclubs stay open until about 4am during the week, and 6am at weekends, during the warmer months. The nightlife is vibrant and fun and definitely dominated by tourists.
The main beach in Kardamena is ideal for both lazy days in the sun and for watersports - everything from pedalos to jet skiing and banana rides can be organised, as well as scuba diving and snorkelling. Other beaches with watersports are Banana Beach and Sovereign Beach. The aptly-named Bubble Beach is popular, and nearby Helona Beach has Blue Flag status.
There are fascinating historical sites scattered around the island to see while on holiday, particularly in the capital Kos Town, 40 minutes away. Further afield, boat tours can be arranged to the spectacular volcanic island of Nisyros and to Rhodes (though be aware the journey takes almost three hours).
---
Holiday visitors should be warned that all the bars on the main strip along the Kardamena seafront have loads of touts working for them, trying to get tourists in, which can become annoying after a few nights. Drinks can be expensive, by Greek standards; it's best to stick to the local beers.
Things to see in Kardamena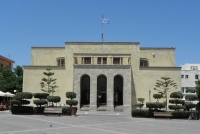 Displaying mainly Hellenistic and Roman treasures found in and around Kos Town and dating from as far back as the 3rd…
read more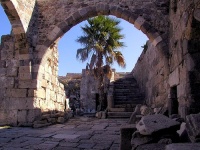 The Castle of the Knights of the Order of Saint John is situated at the entrance of Kos harbour and is an amazing place…
read more