Rethymnon Travel Guide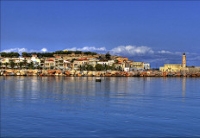 The Parthenon © Nathan Hughes Hamilton
Anyone could be forgiven for mistaking the hugely popular package tour holiday resort town of Rethymnon for a sort of Cretan-inspired theme resort, but the best thing about the town is that its picturesque historic heart is actually genuine. The old town is just that: old; its winding alleys overhung with pretty wooden flower-bedecked balconies flaunt historic Venetian and Turkish architectural influences. Fortunately a recent mad spate of tourist development has left the old town untouched, so it can continue to delight the many photo-happy visitors and serve as a bustling venue for tavernas, restaurants and souvenir shops. To the east is one of Crete's longest sandy beaches, which has become the target of developers and is lined with apartment blocks and hotels. Excursions are easily made to Heraklion, Chania or the monastery of Arkadhi.
There is an overwhelming amount of gift shops geared towards holidaymakers in Rethymnon offering tourist souvenirs, as well as a variety of handicrafts such as pottery, baskets, woodcarving and woven goods. Cretan embroidery can be found at Haroula Spridaki, while various items carved from olive wood are sold at the aptly named Olive Tree Wood. Palaiopoleiou offers genuine antiques and old textiles and those interested in modern ceramics and Greek pottery should stop at Omodamos. Self-caterers will find numerous general stores and mini supermarkets scattered about, and there is a daily market below the Porta Guora.
The inner harbour of Rethymnon sports an array of restaurants perfect for holidaymakers, and several fish tavernas, many of which are expensive for what they are, though reasonable options are available. Better value can be found in the streets around the Rimóndi fountain where there are some old-fashioned cafes serving local fare, including delicious helpings of traditional yoghurt and honey.
Nightlife in Rethymnon ranges from noisy pubs and bars around the inner harbour or inside the old town, to more relaxed bars on the beach where holidaymakers can enjoy the sounds of the sea while sipping on their favourite drink. There are a handful of more flashy dance clubs available for those wanting a party. A new bar scene has appeared above the inner harbour around the Platía Plastira, with music bars sporting outdoor terraces.
Daily boat excursions are the most popular activity in Rethymnon; they take holidaymakers to the beautiful beaches at Bali or Marathi, and usually include lunch at a local taverna with unlimited wine. Evening cruises are also a popular activity, and there are opportunities for hiking and horseback riding. Sights within the city include the mosque of Sultan Ibrahim Han, and the Venetian fortress, as well as an archaeological museum.
---
Rethymnon doesn't have the ruins and archaeological sites that many Greek holidaymakers expect for such an old city.
Things to see in Rethymnon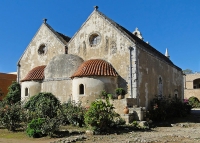 Situated about 14 miles (23km) south of Rethymnon, the Monastery of Arkádhi is something of a national Cretan…
read more