Heraklion Travel Guide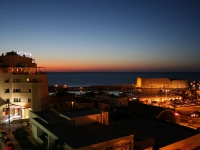 The Parthenon © Nathan Hughes Hamilton
Heraklion is the main city on the island of Crete and usually the starting point for holiday visitors wishing to explore the island. The city, built on a fairly steep hillside, has a huge harbour to accommodate ferries and cruise liners, and an international airport.
Heraklion is busy, bustling and full of hotels, fast food outlets, shops and traffic. The main square of Plateia Venizelou is a pedestrian mall sporting cafés and restaurants, with some fascinating shops in the surrounding streets. Like many Greek cities Heraklion's architecture was influenced by Venetian occupation, and a Venetian fortress dominates the harbour.
The pride and joy of the resort city, though, is its archaeological museum, which contains the world's most comprehensive collection of artefacts from the Minoan civilisation, which flourished on Crete around 1600 BC. Heraklion is also close to the major archaeological site associated with the Minoans at Knossos.
Heraklion is the commercial centre of the island of Crete, and therefore has a heavy concentration of shops. Top designer labels are to be had at reasonable prices on Daedalou Street. Greece is famous for its original jewellery designs and competitive prices, and Heraklion is well supplied with jewellery stores. Other good holiday buys include antiques, leather goods, folk art, olive oil (Crete's is rated as the best in the world) and interesting cheeses like xynotyro, kefalotyri and graviera. Visitors will enjoy browsing the market on 1866 Street, which is a good place to pick up souvenirs.
Shops are usually closed Sundays, and close early on Monday, Wednesday and Saturday. Tourist shops, however, tend to open until 10pm seven days a week, although hours may be reduced in the winter months. Credit cards are not always welcomed in shops but there are numerous ATMs available that accept Visa and MasterCard, and prices are often lower if paying in cash.
Eating out is a national pastime in Greece and whether your choice is a local taverna or elegant restaurant, meals are enjoyed as a pleasurable leisure pursuit. Cretan cuisine is traditional Greek, with meze mixes (consisting of hors d'oeuvres like stuffed vine leaves, meatballs and tzatziki dip) as popular as dishes like moussaka and souvlaki. Tavernas, cafés and ouzeri (bars specialising in ouzo, the aniseed flavoured liqueur) abound in Heraklion, including the popular Ippokambos Ouzeri, right on the waterfront. The city is also well supplied with fast food outlets and restaurants offering international favourites like pizza, pasta, Mexican and Indian specialities, particularly in the main tourist areas like nearby Malia.
A favourite local evening pastime in Heraklion is people-watching from a sidewalk café, sipping coffee or an alcoholic drink, particularly in Liberty or Fountain Square, or at the old harbour beneath the illuminated Venetian fort. The city is well-supplied with clubs and bars and the music is most commonly either rock-and-roll or Greek pop music. Most of the better hotels offer a Cretan night with traditional performers.
Heraklion offers a vast array of historic and archaeological holiday attractions, including its world-famous museum and the nearby site of Knossos, heart of the ancient Minoan civilisation. However, the coastline in and near the city also provides numerous beaches and warm clear water, ideal for swimming and enjoying a variety of watersports. The most beautiful beaches are to be found east of the city, stretching between Kartero and Malia, 21 miles (34km) from the city.
There are opportunities for rock climbing and horseback riding, and kids will enjoy the CretAquarium Thalassocosmos, just a few miles outside the town and the biggest aquarium in the eastern Mediterranean. There is also a technopolis in the city with cinemas and an open-air theatre. It is also possible to hire a car or take a tour to explore the various archaeological sites on the rest of the island, including cathedrals and churches like St Minas, St Catherine of the Sinaites, and the Dominican Church of St Peter.
---
Heraklion is a busy, overcrowded city that can be claustrophobic and noisy. Hotel standards do not always live up to expectations and visitors are often harassed by touts outside the restaurants and cafes, particularly in Fountain Square.
Things to see in Heraklion