Sidari Travel Guide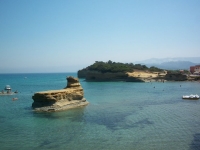 The Parthenon © Nathan Hughes Hamilton
Sidari, a holiday resort popular with British tourists and known for its lively tavernas, bars and nightlife, is a developed resort that has combined a couple of smaller fishing villages. It is located 26 miles (42km) north of Corfu town on the north coast of Corfu and is famous for its long sandy beaches with warm, shallow waters, making it the perfect location for a safe and relaxing family holiday. Sidari is also famous for the Canal D'Amour, where it is thought that people who bathe in the waters will find romance.
There is plenty of shopping along the main strip and many souvenir shops can be found selling quality merchandise. The island is noted for its gold and silver jewellery, and leather goods, painted ceramics, and olive wood products are all popular Sidari souvenirs.
Sidari has many restaurants offering a wide variety of food for holiday visitors to enjoy, and most English dishes are served with a Greek twist. As one might expect, a number of the most popular restaurants are on the beachfront. Visitors will find both authentic Greek fare and foreigner-friendly Western staples.
The nightlife in Sidari is feisty, with a range of bars and nightclubs catering to all kinds of evening entertainment; holiday visitors will not be disappointed. Karaoke is popular in several bars, and there is a fun open-air club which stays open until about 8am in the summer months. Most regular bars on the 400-metre strip stay open until around 3am and the area can become quite noisy as a result in the peak tourist season.
Holidaymakers will find that most types of watersports are available in Sidari, except jet skis. Boats can be hired and no license is needed. There is a small horse riding centre geared towards children, and boat trips to nearby islands like Paxos and Erikoussa can be organised, as well as a coach trip to Albania and horse and carriage rides. There is a regular bus to Corfu Town and Aqualand Water Park.
---
Due to the late closing times of the bars and clubs along the main strip of Sidari, the area can become quite noisy. The lack of cultural and historical attractions dissuades many visitors looking for a quieter and more authentically Greek holiday.