Kavos Travel Guide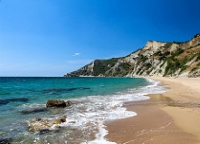 The Parthenon © Nathan Hughes Hamilton
A sprawling town on the southern tip of Corfu, Kavos is the most action-packed of the island's holiday resorts and is very popular with the British under-25 crowd, intent on having a good time. The long, narrow beach is far from the best in Corfu but offers lovely views over to the Greek mainland, lots of watersports and is fine for sleeping off the night before. Those looking for a less hectic holiday, but still within reach of the nightlife in Kavos, should stay in the neighbouring resort of Aghios Petros, one mile (2km) to the north.
The shopping in Kavos is mostly limited to souvenir and 'bucket and spade' shops selling the usual tourist tat geared to holidaymakers, including some fake designer labels. For more choice, there are regular buses to Corfu Town (half an hour away), which has an excellent range of shops. Good buys include gold, leather, lace, ceramics and silver. For self-caterers, there are a few mini-markets that supply the essentials, including cheap alcohol and cigarettes. For those that risk buying anything from the street vendors, remember to haggle hard.
There are a wide choice of cafes, restaurants and fast food joints, but most offer similar menus catering to holidaymakers. There is a variety of fresh seafood, and plenty of takeaway souvlaki and gyros joints.
Kavos is one of the top party holiday destinations in Greece and is crammed full of bars and clubs with music, dancing and karaoke. All sorts of night time entertainment is available with things like foam parties and themed club nights part of the weekly routine. The scene is geared towards the young and energetic and those in search of peace and quiet should look elsewhere.
The sea around Kavos is warm and shallow and ideal for swimming and watersports, which holidaymakers can arrange from the beach. Popular excursions include a visit to the nearby aqua park and boat trips around the scenic coast. Those with a taste for culture should make the trip to the island's historic capital, Corfu Town, which is packed with interesting archaeological sites. Also, the interior of Corfu is worth exploring for those looking for some tranquillity; it remains very unspoilt and uncrowded even during the peak season.
---
The nightlife and entertainment in Kavos is geared for 18-30s, so families would do better to stay well clear of the main strip. This area also attracts touts from far afield. The salesmen outside the bars and restaurants are very pushy but can be worth chatting up as they offer free drinks, but beware of the double measures. Visitors should avoid the Albanian gypsies selling flowers and glow bangles, or keep a very close eye on their wallets. The beach in Kavos is not great and is sometimes covered in litter and seaweed; however, it offers safe swimming and lots of watersports.