Cote D Azur

---

---
Ski Resorts

---

---

---

---

---

show more Ski Resorts
Cannes Travel Guide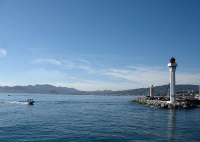 Paris, France © Benh Lieu Song
Today it is hard to imagine that the quintessential, glamorous French Riviera holiday resort of Cannes was for centuries a simple, sleepy fishing village whose only visitors were the monks and wealthy pilgrims who came to visit the monastery on the nearby Island of St Honorat. All this changed in 1834 when Lord Henry Brougham, former British Chancellor of the Exchequer, arrived and established Cannes as a popular upmarket holiday resort for the British upper-classes.
Soon the French and later the Russian aristocracy also flocked to Cannes to while away their summer holidays. Each May the world's media descend in droves for the annual Cannes Film Festival, which draws international celebrities along with the paparazzi and expectant fans hoping to glimpse the rich and famous at the Palais des Festivals. One of the top film festivals in the world, the Cannes Film Festival hosts the premieres of many top studios and independent films.
Hundreds of less exceptional international conferences take place in Cannes each year as well, making rooms hard to find and restaurants hard to book for much of the year. Cannes is busy all year long, frequented by business travellers off-season and besieged by tourists on holiday in the summer, when the long sandy beaches, glitzy nightclubs, chic shops and famous promenade are abuzz with beautiful people flaunting the latest designer wear. Despite the city's pretensions and massive over-development, Cannes is still an international city of charm and good cheer, and a great holiday destination.
In terms of shopping, Cannes is a luxury destination with top designer shops like Dior, Chanel, and Gucci lining the streets. Bargain-hunters won't come away disappointed, however. Most stores are concentrated between La Croisette and rue d'Antibes. Rue Maynadier has a fun, market-like atmosphere and a few bargains, and the old town is where visitors will find the greatest number of tourist shops. The monastery on Ste Honorat also has an interesting shop.
Shopping hours in Cannes run between 10am and 7.30pm, with a roughly two-hour break for lunch at noon in the low season.
Restaurants in Cannes are an often ostentatious display of fine dining, with a price tag to match. There are a number of popular restaurants along the waterfront and in the district of Le Suquet along the rue Meynadier. These are known for stunning views and good people-watching, if not value for money. There tend to be quieter and more reasonable restaurants along the backstreets. The Michelin-starred La Palme d'Or is a good option for special occasions.
The nightlife in Cannes is centred around the casinos, like many towns in the Côte d'Azur. The Palm Beach Casino and the Casino Croisette are popular destinations after dark. There are a number of bars and clubs that buzz nightly, however. There are a number of live music venues and theatre performances, but these tend to die down outside of the festivals which draw thousands to this otherwise rather small town's shores.
There is lots to see and do in Cannes. The old town is pleasant for strollilng and sightseeing, and the beaches fantastic for lying in the sun. For the more active, there are a number of watersports available, including sailing and swimming.
Popular attractions in Cannes include the Notre-Dame d'Esperance, the Molinard perfume factory, and the Musée d'Art et d'Histoire de Provence. It is also worthwhile to take the trip out to the Îles de Lérins, which boast a monastery and ruins alongside a number of shops, bars and restaurants. There are also options for excursions to nearby Monaco and St Tropez.
---
Cannes is not a budget holiday destination, with many restaurants, shops and hotels charging exorbitant rates. It can be uncomfortably overcrowded when there is a festival.
Things to see in Cannes