Gulf Coast

---
Marco Island Travel Guide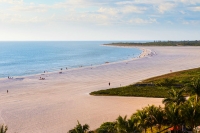 Sunset in Everglades National Park © Esther Lee
Measuring just over six-by-four miles (10km by 6km) Marco Island is a bustling, full-service holiday resort community on the northern edge of west Florida's coastal wilderness area, which is known as Ten Thousand Islands. Dolphins frolic in the sunshine off tropical sugary white beaches in this serene vacation spot, which is a stone's throw from the vibrant city of Naples but on the doorstep of nearly 100 miles of protected undeveloped islands, bays and estuaries. Marco is hemmed in by the Rookery Bay Nature Reserve to the north, and in the south the Ten Thousand Islands National Wildlife Refuge, Collier-Seminole State Park and the Everglades National Park. Not surprisingly the resort island and its relatively pollution free waters, well stocked with diverse and healthy fish populations, are a magnet for game fishermen and anglers. It is not only natural wonders that abound on Marco Island: the community offers top class shopping, recreational opportunities and dining on a par with any alluring holiday resort.
Most visitors to Marco Island prefer to spend their holiday funds in the upmarket malls of elegant Naples, just 15 miles (24km) away on the mainland across the high-rise bridge. The island's sprawling resort-ridden area boasts its own Marco Town Center Mall, which offers enough to keep avid shoppers busy though. The Mall, designed as a quaint village on North Collier Boulevard and Bald Eagle Drive, features a large selection of shops and boutiques selling clothing, home accessories, fine jewellery, gifts and shoes. There is also a beauty salon, grocery store, optician and pharmacy.
Seafood specialities top the menu in most of Marco Island's many dining establishments, and of course most holidaymakers choose to enjoy the balmy weather and dine al fresco. The Olde Marco Island Inn is a favourite haunt for gourmets after a taste of the islands, with sizzling steaks and juicy shrimp on offer in several olde worlde dining rooms and an outdoor upper deck. Another popular eatery is the Snook Inn on the waterfront, where visitors dine in style watching dolphins and pelicans play.
Lingering over dinner or sipping cocktails under the stars is enough evening entertainment for most island holidaymakers, but those who like things a little hotter will probably find dancing and cabaret available at their resort or hotel. Stan's Idle Hour Restaurant is usually a good bet for a party atmosphere, and the Snook Inn offers live music on the dockside. There is a movie theatre on the island. The bright lights of Naples are only a few minutes drive away on the mainland.
Founder of the first settlement on Marco Island, Captain William Collier, started charging fishermen to stay in his house for the pleasure of casting a line in the Gulf waters way back in the 1870s. Today fishing is still the main magnet for visitors to the island, which is bristling with charter companies offering deep-sea game fishing trips to the well-stocked nursery grounds of the Gulf around the Ten Thousand Islands.
Aside from fishing, Marco Island offers a beautiful crescent-shaped beach with a plethora of watersports facilities aimed at holidaymakers. Colourful seashells are plentiful along the water's edge and holidaying visitors become hooked on the fun pastime of shelling. Tours to the Everglades make a great side trip, and golfers are well catered for on the island's courses, which are designed to suit everyone from beginner to seasoned pro.
---
Little Marco Island is vulnerable to hurricanes and storm surges, but residents and visitors are evacuated to the mainland if danger threatens.