Nafplion Travel Guide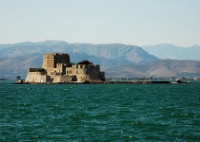 The Parthenon © Nathan Hughes Hamilton
Nafplion is a favourite holiday destination for hot and bothered Athenians, and no wonder because it is not only a lovely city, but exudes a cool and relaxed atmosphere soothing to busy locals and foreign tourists alike. Nafplion was capital of the Greek state from 1828 to 1834 after the war of independence, although its history is modern compared to the rest of Greece, and particularly the Peloponnese.
Nafplion is an adored holiday spot for its charm alone; it gets by without any classical ruins, but the town is home to picturesque streets overhung with wooden balconies cascading with bright flowers. Some lively outdoor cafés and fascinating churches and mosques add to the atmosphere. Nafplion is also popular as a port of call for cruises in the Greek islands.
The old part of town offers a quite delightful collection of shops ranging from the artistic and unique to the extremes of touristic kitch - this is a fun area to shop for souvenirs and gifts. Nafplion is a city and has all the desired amenities for shoppers including several decent malls, grocery stores for self-caterers, and many shops geared towards tourists. It is best to just let yourself get lost in the pleasant areas of the city. The locals have frequent markets to sell local produce and crafts and often you can find these along the beachfront.
Cafes and restaurants line the harbour, and Plateia Syntagmatos, a grand Venetian-style square, is also a centre of activity and a good place to eat out. Ellas restaurant is a great place to get a traditional lunch on the square. Between the bustling harbour and the square is Staikopoulou Street which has a cluster of authentic Greek tavernas. Nafplion has a lot of variety and it is possible to find the cuisines of several nations as well as simple tourist fare, fast-food joints, and some beautiful, upmarket hotel restaurants.
Nafplion has a vibrant nightlife and some of the best clubs and bars can be found perching dramatically on the cliffs, or in the harbour area. Although rich, the nightlife is also quite relaxed generally. The advantage of being in a city is that there is a lot of variety and teenagers or young adults will be able to find their own fun, while those who prefer relaxed sundowners, romantic meals, and early nights will be able to avoid the noise and party scene. Many of the bigger hotels organise their own entertainment programmes or have their own bars, restaurants and clubs.
There are several art galleries and interesting museums dedicated to archaeology, folklore, Komboloi (worry beads), and even Ouzo. Energetic holiday visitors and cruise ship passengers can climb the 857 steps to the Venetian Fortress of Palamidi that overlooks Nafplion, but many prefer to just enjoy the tavernas on the waterfront, the open-air cinemas, and the beaches, while using the town as a refreshing and comfortable base from which to explore the remarkable archaeological sites of the Peloponnese. These include the ancient Greek theatre of Epidaurus, which dates to about the 4th century BC and still has perfect acoustics, and the famed site of ancient Sparta which has some fascinating ruins. Athens is less than two hours drive from Nafplion so it is relatively easy to pop into the capital as well.
---
Although it has been described as a prettier, cleaner and quainter version of Athens, things can get fairly chaotic in Nafplion during the summer months, particularly as it is a very popular weekend excursion for the Athenians themselves.
Things to see in Nafplion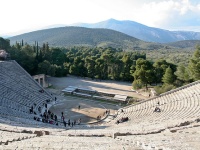 A definite must on a tour of the Peloponnese is the famed ancient theatre of Epidaurus, built in the 3rd century BC and…
read more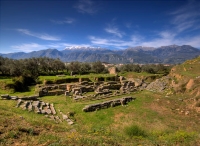 Made popular again by the 2006 film 300, the ancient city of Sparta sits in the middle of the Plains of Laconia in the…
read more