Hania Travel Guide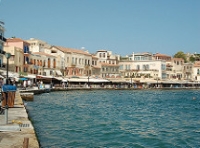 The Parthenon © Nathan Hughes Hamilton
The largest city in western Crete and (together with Rethymnon) the most attractive, Haniá (also spelled Chania) is a historically charming labyrinth of jumbled Venetian and Turkish buildings surrounding a small harbour, with colourful markets, town squares, craft shops and fine dining possibilities - a perfect Greek holiday destination. Narrow, winding lanes are lined with tavernas, cafes and shops, and ancient alleyways lead to endless photographic opportunities that encompass overhanging wooden balconies, delicate stonework and white Orthodox churches. Parts of the old city walls and buildings have been excavated and can be enjoyed just by walking about town.
The port area of Haniá is the oldest and most interesting part of town and holidaymakers will find it busiest at night with many bars and restaurants. A promenade curves around the harbour leading from the main hotel area. There are a few museums worth visiting, including the Archaeological and Naval Museums, and the famed walk through the Samaria Gorge is a worthwhile excursion from the town.
Holidaymakers should visit the Public Market in Haniá for fresh produce and a fish market, vegetable stalls, grocery shops and butchers. Around the cathedral are some of the better shopping areas, especially Odhós Skrídhlof (Leather Street) that is lined with traditional leather-making shops. There are endless jewellery, souvenir and craft shops. This picturesque port city has more than enough shopping to occupy tourists.
Around the harbour in Haniá, holiday visitors will find numerous tavernas, restaurants and cafes, but with little variation in price and menu. Away from the water are plenty of cheaper options on Kondhiláki, Kanevárou and many of the streets off Halídhon. For more traditional places the area around the market and along Dhaskaloyiánnis is good. Fast food is also widespread and there are numerous souvlaki places on Karaolí, near the Naval Museum, across from the market and at the end of the outer harbour.
Most of the clubs and discos are centred on the inner harbour in Haniá, but there are plenty around the outer harbour and throughout the old quarter where holidaymakers up for a party can enjoy a night out. There are one or two well-known gay clubs. Those in search of a party shouldn't be disappointed.
There are numerous good museums in Hania; one of the best is the Maritime Museum which has some interesting models. There are also many possible excursions and day trips to see the myriad attractions of Crete, which could fill a long holiday. The beaches are also gorgeous: there are both pebble and sand beaches. Some of the most popular ones are Elafonisi - which can only be reached by boat - Balos, Falasarna, Almerida and Chryssi Akti (Golden Beach) which is very close to the city. Hania truly is a quaint and lovely city and some time is well spent just getting lost in the narrow streets.
---
The pavements in Hania are very narrow making strolling along the streets a bit hazardous. There are also no direct flights.
Things to see in Hania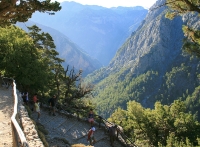 The Samaria Gorge National Park, in the White Mountains of western Crete, is said to be one of the most splendid scenic…
read more