Protaras Travel Guide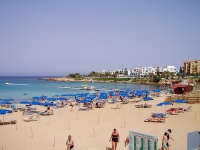 Cyprus © Krzysztof Belczynski
The holiday resort of Protaras on the south east coast of Cyprus has all the trappings of the larger, more frenetic Ayia Napa that is a few minutes drive away, but it is far more family friendly and boasts the best beach on the island, fabulous Fig Tree Bay.
Protaras is actually a town built on a piece of flat, scrubby land expressly for the purpose of catering for British holidaymakers. Just adjacent to the village of Paralimni, Protaras consists mainly of a grid of restaurants, nightclubs and shops surrounded by numerous hotels and holiday apartment blocks. Landscaping is rather lacking and the buildings do not follow any theme: it is a hodge-podge of architecture and concrete that can get blistering hot in the summer sun.
No-one seems to mind the lack of genuine Cypriot atmosphere, however, because Protaras does what it was intended to do, and that is give everyone a great holiday. Then, too, it has the magnificent golden Blue Flag beach, which stretches for 10 miles (16km) or so shelving gently into the crystal clear Mediterranean, and further up and down the coast a choice of secluded coves and inlets for those wanting more privacy.
The shops in Protaras centre may look a little tacky, but they provide everything required by holidaymakers, from beach paraphernalia to souvenirs. There are several hundred retail establishments in the resort including supermarkets, clothing stores and jewellers. Serious bargain hunters are advised to take a bus or taxi to nearby Agia Napa where there is an abundance of stores selling tax free designer goods. Local jewellery and leather goods are also good souvenirs from Protaras.
Holidaymakers will find that Protaras has dozens of restaurants and fast food outlets, mainly catering for the usual tourist fare of pizza, curry, burgers and the like. Many local establishments are run by British ex-pats. Visitors who enjoy making the most of the local produce should opt for one of the many open-air seafood restaurants. For Cypriot specialities try Bambos, which serves a mix of local and international fare, or the Nicolas Taverna renowned for delectable kleftico.
At night Protaras main street erupts into a noisy sound and light show as the many disco/bars, pubs and clubs turn up the volume to draw in the crowds and holidaymakers up for a party. Many establishments offer live entertainment or karaoke and the discos feature English deejays and laser lights. There are only a few nightclubs, and serious all-night clubbers prefer to travel to Ayia Napa for the evening. Recommended for an entertaining evening of dancing is Sfinx, the bar at the Paralimni end of the main road.
The main beach at Protaras offers a vast range of water sports opportunities and equipment hire, from paddle boats to jet skis. The resort caters particularly well for children, most of the hotels and apartment complexes offering excellent Kid's Clubs. There are two exciting water parks nearby at Ayia Napa, which provide thrills and spills for all ages. Most visitors enjoy a stroll along the clifftops of the coastline, particularly in spring when the landscape is covered in wild flowers. The more energetic can hike up the steep crag on the outskirts of the resort to the Ayios Ilias Church from where there is a spectacular view. Local operators offer several day trips, sea cruises and excursions to places of interest, like into the Troodos Mountains or to explore the city of Nicosia.
---
Protaras resort is not aesthetically pleasing or scenic, and the nearby village of Paralimni is also far from a quaint, authentic Greek Cypriot town. Young clubbers may be disappointed in the nightlife, which is more family-oriented, but there is the option of travelling to nearby Ayia Napa.