Ski Resorts

---

---

---

---

---

show more Ski Resorts
St Tropez Travel Guide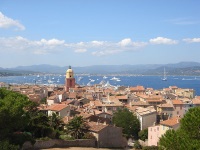 Paris, France © Benh Lieu Song
St Tropez has long held the reputation of being the 'black sheep' of the renowned French Riviera holiday resort towns, where anything goes and the more sinful the better. Sexy starlets were flaunting themselves topless here back in the 1930s, long before the beautiful people dared disrobe elsewhere, and St Tropez' reputation as a kinky carnival town attracting the more bohemian members of the 'in' crowd continues to this day. The fairly inaccessible fishing village of St Tropez, situated on a peninsula, was 'discovered' late in the 19th century by a bunch of reprobate writers and artists, and its reputation as a flamboyant and fashionable holiday destination quickly spread.
There is little left of the medieval Provencal atmosphere of the original town, but behind the rows of yachts fronting the terraced cafés of the waterfront are some narrow, picturesque streets full of shops. The hub of the St Tropez town is the Place aux Herbes, a busy enclave of fish, fruit, vegetable and flower stalls, where the tourism office is located.
From May to September, St Tropez is the wild holiday destination people imagine, but in the off season the town virtually shuts down, reverting to a quieter, calmer existence as just another charming French port town.
Don't miss the huge outdoor market at Place des Lices on Tuesday and Saturday mornings. Visitors will find big name boutiques throughout St Tropez with high-end fashion labels for the jet set, and plenty of generic shops selling suntan lotion and other beach accessories. For top end art work visit Galerie des Lices. Popular souvenirs from St Tropez include olives and products made from olive trees. There isn't a concentrated shopping district in St Tropez, with many shops tucked away in side streets. Avoid the shops along the waterfront, as the prices are significantly higher than those just a block or two inland.
There are numerous good restaurants around the waterfront, most with good views and set menus. Place des Lices is lined with cafes and patisseries.
The area around Quai Jean Jaures on the waterfront is where the best of the nightlife can be found. Within town, check out the charismatic and laid-back bars in and around Place des Lices. For celebrity spotting and pricey champagne cocktails get dressed up and head to Nikki Beach. For a more casual night there are some popular expat pubs.
The beach in St Tropez is famous, and has a number of bars, cafes, and watersports options, especially the popular Plage de Tahiti, three miles (4.5km) out of town. The beaches west of St Tropez are popular with nudists. Stroll the Sentier Littoral, a coastal walking route with fabulous views. Visit the Musée de I'Annonciade, which has an exceptional collection of post-Impressionist paintings.
---
St Tropez is expensive, and has little in the way of attractions for younger children. During peak summer months (July to August) it is expensive and getting into bars and restaurants can be difficult.
Things to see in St Tropez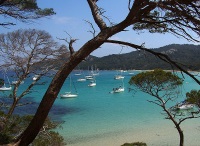 The Cote d'Azur beaches range from intimate rocky coves to long swathes of golden sands packed with sun worshipers. Some…
read more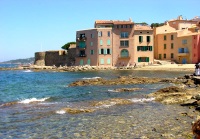 Behind the cafés, the small streets and old buildings of St Tropez form a picturesque scene, but they are popular…
read more