Vancouver Island

---

---

---
British Columbia

---

---

---

---

---

---

---
Tofino Travel Guide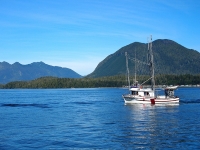 Berg Lake © Jeff P
Once a fishing and logging town, Tofino, on the Pacific Rim of Vancouver Island, is swiftly becoming a popular holiday destination for travellers from around the globe. Tucked away at the entrance of the Clayoquot Sound, the area is home to the Pacific Rim National Park, gorgeous sandy stretches of beach, islands with spectacular old growth forest (still under threat from logging companies), hot springs, and Long Beach, Canada's premier surfing spot. Home to only about 2,000 locals, Tofino, with its mild climate, is resplendent with natural beauty. The area boasts plenty of activities for visitors, including kayaking, whale watching, surfing and fishing.
Hot Springs Cove, accessible only by air or sea, is open year round and visitors can soak in rock pools filled with boiling spring water cooled by ocean surf. Other popular sights include the Eik Cedar, an 800-year-old tree that was rescued by residents after it was condemned to be felled; the Tofino Botanical Gardens with acres of forest, shoreline and gardens; and the Whale Centre Maritime Museum housing fascinating artefacts. The Wickannish Interpretive Centre, containing interesting information about the region and the Nuu-chah-nulth First Nations, the area's original inhabitants, is well worth a visit. Tofino offers visitors the perfect combination of a range of activities, as well as a chance to relax and put their feet up, surrounded by unparalleled beauty.
There are plenty of shops for holidaymakers in Tofino, with many specialising in First Nations art and crafts. The Bella Boutique on the Pacific Rim Highway specialises in unique Canadian fashion, jewellery and art; while the Tofino Gift Company carries a selection of traditional Vancouver souvenirs like sweaters, local art, and woodturnings.
Holiday visitors can find a number of restaurants in Tofino, ranging from pizza and sushi to regionally grown and organic handmade foods, fresh seafood, as well as Nuu-Chah-Nulth First Nations cuisine, deli-style offerings and classic Italian. There are also a number of catering services available.
Tofino is not celebrated for its nightlife, with only a handful of bars and pubs and not much of a nightclub scene.
There are a number of activities in Tofino and its surrounds, with plenty to enthral and entertain holidaymakers year round. Kayaking here is excellent; numerous bays and inlets provide a great way to explore the area in a sheltered manner, while the more adventurous can head out into the open ocean or opt to kayak with Orcas. Whale watching is also a popular activity as pods of migratory grey whales frequent the area in mid-spring, with guided tours on offer by various charter companies. Tofino and neighbouring Ucluelet celebrate this event with the entertaining and interesting Pacific Rim Whale Festival from mid-March to mid-April. Other activities in Tofino include world-class fishing, scuba diving, windsurfing, hiking through the rainforest or beach hiking, golfing, beach combing, eco tours, cultural tours and even winter storm watching, as winds whip up the ocean and create huge waves that crash spectacularly on the shore. Surfing, of course, is immensely popular in Tofino, with Long Beach offering arguably the best surf in the country, particularly in winter, and a unique Surf Camp is available, as well as an all-women surf school.
---
The lack of an energetic nightlife may disappoint some visitors.