The Sun Met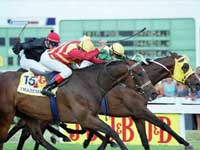 J&B Met ©
One of the most prestigious and anticipated events on Cape Town's social calendar, the Met is not only about thoroughbreds, but is a day of glamorous fashion, entertainment and sophistication. Formerly known as the J&B Met, the Sun Met is the premier horseracing event in South Africa, with over R1.5-million in prize moneyon the table.
The Official After Party is a highly rated post-race event that continues the festivities well into the early hours. The Met attracts many of South Africa's biggest celebrities and socialites competing in the fashion stakes, and like many horse racing events, creative couture and glamorous hats are the order of the day.
It is difficult not to get drawn into the excitement of the races on the day, even if you completely uninitiated in the sport. A staggering 50,000 people attend the event on average and every year there is a new theme for guests to interpret however they like.
Placing bets is very simple and easy and you can bet as little or as much as you like. There are numerous fancy pavilions on the grounds for VIP guests, and even if you somehow escape being infected by the thrill of the races, the social element is a big draw.
Venue: Kenilworth Race Course
Date: 26 January 2020
Website: www.sunmet.co.za