Fete de la Musique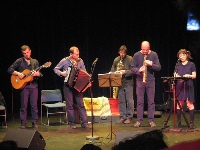 Fete de la Musique © nilujeperchut
Originally an idea conceived in France, the Fête de la Musique festival (also known as World Music Day) is now celebrated in about 100 countries around the world on the same day. In the Philippines, the event takes place primarily in Manila where it spreads out across the Makati area with a variety of main stages and even more 'pocket' stages. This year, the event will enjoy a second round in Puerto Princesa, Palawan, after it finishes in Manila.
The music itself is a cocktail of everything of the best from jazz and rock, blues and alternative to electronic, reggae and ethnic percussion. A number of free and festive street parties and concerts occur on the day annually, making it a fun period in which to visit Manila. The music is commonly accompanied by all sorts of cultural festivities, often with a notably French influence, in tribute to the origins of the festival.
The Filipinos bring their own special flavour to the event and travellers will be able to experience traditional island music as well as more commercial, mainstream entertainment.
Venue: A-Venue Mall parking lot; Greenbelt 3 park; and Puerta Real Garden, Intramuros.
Date: TBA