United Arab Emirates

---

---

---

---

---

---

---
Sharjah Travel Guide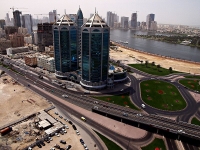 Sharjah © Basil D Soufi
Sharjah is the third-largest of the UAE's cities, and is capital of the wealthy Sharjah emirate.
Many of the headline attractions are within the Heritage Area near the main cornice. Here visitors can explore the Al Hisn Fort and the Sharjah Museum of Islamic Civilization, both worth experiencing to counterbalance the Emirate's more modern, consumer culture face.
Nearby Khalid Lagoon has a water fountain that spouts 160 feet (100m) into the air, making this the third largest fountain in the world. The Sharjah Aquarium, located at the mouth of Al Khan Lagoon, is also worth visiting. The Eye of the Emirates on the edge of the city is a giant wheel that offers a spectacular views over the downtown and cornice attractions - a great way to orientate one on first arrival.
For shopping, brush up on your haggling skills and head for the Blue Mosque, possibly the best place in the country to buy carpets, or the venerable Souq al-Arsah, the UAE's oldest covered market, and well worth a visit. For those wanting a little more activity into the surrounding area, there are plenty of desert and camel safaris, diving and boat tours to take.
The emirate of Sharjah is the only emirate in which the sale, possession and consumption of alcohol is banned. Despite this the city is popular with expats who take advantage of Sharjah's cheaper accommodation while commuting to Dubai, 20 miles (34km) away, for work.