Chiang Mai Travel Guide
Chiang Mai Travel Guide
A holiday in the ancient city of Chiang Mai is an essential element of any visit to Thailand and a gateway to the north:
A holiday in Chiang Mai is an essential element of any visit to Thailand. This ancient city, with a cooler climate and greener aspect than frenetic Bangkok, is set in the foothills of the Himalayas, and is known for its elephant-back safaris, magnificent temples and famed Night Market. This popular tourist destination also has plenty of other attractions and excursions to enchant visitors, from orchid farms to puppet shows. Travel to Chiang Mai is for anyone who thinks they would enjoy an entertaining and interesting taste of Thailand and especially families, as there are a number of fantastic attractions for children. A vacation in Chiang Mai appeals to anyone who is intent on learning more about the Thai way of life.
Best time to visit Chiang Mai
The best time to visit Chiang Mai, like elsewhere in Thailand, is between November and May when cooling winds blow through the city, ensuring warm to mild days. Chiang Mai is generally cooler and less humid than Bangkok and December and January can be on the chilly side. Read more on Chiang Mai's Climate and Weather.
What to see in Chiang Mai
-Learn something new about the culture of northern Thailand at the Chiang Mai City Arts and Cultural Center
-Experience a unique way of life at the Lisu Hill-Tribe Display.
-Marvel at the lush gardens at the Bhubing Palace.
-Be amazed by natural mystery of the Naga Fireball Festival.
What to do in Chiang Mai
-Take the kids to the Chiang Mai Zoo to see the pandas.
-Feel the love during Loy Krathon festival.
-Visit the elephants in one of the many sanctuaries around the city.
-Tour any of the hundreds of Chiang Mai Temples.
Beyond Chiang Mai
There are many fun and adventurous excursions from Chiang Mai into the surrounding countryside and to nearby villages: the Pai district draws many tourists for its rural scenic beauty and the Doi Suthep mountain is famous for its beautiful temple (Wat Phratat) perched on the summit. Chiang Mai is also the perfect base for trekking into the northern regions of Thailand occupied by the ancient Lisu hill tribe people.
Getting there
Flights to Chiang Mai land at Chiang Mai International Airport, situated two miles (4km) from the city centre. Get more info on Airports in Chiang Mai.
Did you know?
-Chiang Mai means 'new city', even though it is far older than Bangkok.
-Chiang Mai is home to Thailand's highest mountain, Doi Inthanon.
-The Chiang Mai city area has over 300 Buddhist temples.
---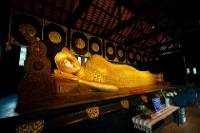 Reclining Buddha © Mark Fischer
Chiang Mai is Thailand's second largest city, and an excellent starting point for excursions into the northern territories. Its name means 'new city', even though Chiang Mai is much older than Bangkok, having been built in 1296 under the rule of King Mengrai. The city straddles the gap between urban and rural Thailand, and offers the best of both worlds in terms of attractions and activities for Thailand tourists.
While Chiang Mai has more than 300 ancient temples, including the one at Doi Suthep, which offer breathtaking views over the area, its popularity is largely due to the elephant treks in the surrounding countryside. Travellers can also use Chiang Mai as a launching pad for excursions to the Lisu Hill-Tribe, Bhubing Palace, Isaan province, and Chiang Rai. Thai cookery classes are also a popular tradition, and the city also has an extensive night market, with dozens of street vendors selling a variety of traditional Thai wares that can be obtained at very low prices if you have the patience to bargain for them.
Chiang Mai is small enough to get around on a bicycle, has several attractions, and offers excellent accommodation, although tourists are advised that it can be difficult to find a room in peak season, between December and March.