Stockholm Travel Guide
Stockholm Travel Guide
A delightful mélange of medieval charm and cutting-edge modernity:
Stockholm's beautiful buildings and suburbs occupy 14 main islands and appear to exist harmoniously with the natural environment: the city is said to be one third water, one third green space, and one third buildings, and is known to have remarkably clean air. All of these factors conspire to make Stockholm a breathtaking feast for the eyes, with colourful buidlings reflecting off the water and golden sunlight filtering through the trees.
Endless summer days, a cosmopolitan nightlife, miles of pretty waterways, gourmet restaurants, interesting museums, superior shopping, numerous parks, and an historic medieval enclave all contribute to making a holiday in Stockholm a memorable experience. It is a trendy city which has a lot to offer fashionistas and gourmets as well as those looking to do some quality traditional sightseeing. Stockholm also benefits from the fact that it is not yet overrun by tourists, despite its myriad charms.
Best time to visit Stockholm
A city for all seasons, a holiday in Stockholm can be enjoyed at any time of year, but the best months to visit are June, July and August. Sun-lovers are advised to travel to Stockholm during summer, the most popular season for tourism, when daylight extends well into the night and the pavement cafes remain bathed in sunshine for almost 24 hours. In winter the chill and darkness sets in, but travellers can always retreat to the cosy pubs, gourmet restaurants, or fascinating museums.
Read more on Stockholm's Climate and Weather.
What to see in Stockholm
-Discover Sweden's fascinating history and Viking heritage at the Museum of National Antiquities.
-Visit the Stockholm City Hall and marvel at its elaborate interior.
-Stroll through five centuries of history at the outdoor Skansen Museum.
-Marvel at the salvaged Royal Warship Vasa, which sank in 1628.
What to do in Stockholm
-Treat the kids to a day of amusement park fun at Gröna Lund.
-Explore Royal Djurgården, an island chock full of tourist attractions.
-Cruise around the many islets of the Stockholm Archipelago.
-Take a tour of the Royal Palace, one of the largest palaces in Europe.
Beyond Stockholm
Apart from the many delights of the islands that form the Stockholm Archipelago, the historic attractions of Uppsala are within very easy reach for excursions out of the city, and the beautiful Gotland, Sweden's largest island, is a short flight away. A short drive will bring tourists in Stockholm to the old Sala Silver Mine, which offers thrilling underground tours.
Getting there
Generally known as Arlanda Airport, the Stockholm Arlanda Airport is the main international flight hub in Sweden. The airport is situated 28 miles (45km) north of Stockholm. There are direct flights to Stockholm from cities in the UK and the US, and most European capitals.
Get more information on Airports in Stockholm.
Did you know?
-Stockholm's nickname is "Venice of the North", owing to its striking beauty and watery surroundings.
-Stockholm's subway is considered the world's longest art gallery, with sculptures, mosaics and paintings in most stations.
-One of the oldest surviving buildings in Stockholm is the Riddarholm Church, built in 1270.
---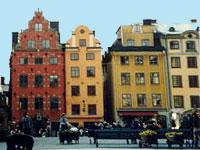 Gamla Stan, the old city © Judith Duk
The Swedish capital, Stockholm, is not only Scandinavia's largest city but also its most enchanting, with its centuries-old alleyways and squares spread across an archipelago of 14 islands. Locals are extremely proud of the fact that in Stockholm one can go ocean-fishing in the heart of the city.
This historic metropolis with a small town heart boasts a multitude of museums, restaurants, parks, fun fairs, a never-ending nightlife (licensing hours extend into the early hours) and a rich cultural tradition. It all adds up to 'never a dull moment', particularly in the summer when the sun virtually never sets because of the city's position in the far northern latitudes.
Most tourists are initially drawn to the quaint Gamla Stan (Old Town), a warren of narrow cobblestone streets overshadowed by historic houses, radiating out from the sumptuous Royal Castle, where Swedish monarchs have resided since the 13th century. However, despite the rich medieval heritage, Stockholm is no staid, old-fashioned enclave. Citizens have developed a reputation for being trendy, daring and innovative, especially in the global realms of IT and fashion, often setting the pace in the design and technology fields.
Stockholmers are also immensely concerned with the environment, and the cityscape is made up of one-third water, one-third green space, one-third buildings, and some of the cleanest air of any city in the world. Take a deep breath, pack a picnic, hop aboard a ferry, and make for one of the parks where you will undoubtedly be treated to a free concert; or head for the legendary shopping districts of Biblioteksgatan (exclusive European boutiques), Odengatan (antique treasures), and others. There is culture to be soaked up too, with more than 150 museums to visit, art festivals galore, architecture to be admired (including the beautiful City Hall where the Nobel Prize banquet takes place), and a world-renowned opera or jazz concert to attend.
It may be old, but Stockholm is a destination for the young and energetic, as yet not overrun with tourists like many other European capitals.