Ljubljana Travel Guide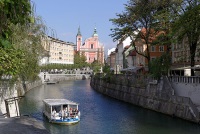 Ljubljana © Berthold Werner
A city of culture and cuisine, boutiques, bars and hidden treasures, the capital of Slovenia exudes small-town charm. Ljubljana is a fusion of tradition and modernity; the magnificent Baroque, Renaissance and Art Nouveau architecture of the old town centre speaks to Ljubljana's 5,000 years of fascinating history, while its lively cultural, scientific, educational and commercial spheres leave no doubt that this is a sophisticated city in tune with the times. It is also one of Europe's most environmentally friendly capital cities, and was awarded the coveted Green Capital of Europe title in 2016.
Ljubljana is a devoted centre of culture, with more than ten thousand cultural events gracing its calendar each year, including the Summer Festival, Jazz Festival and the Druga Godba Festival of Alternative Music. Music is the lifeblood of the city, which boasts one of the oldest established philharmonic orchestras in the world, not to mention some very accomplished street musicians.
Classical culture is not all that's on offer, however. With its large student population, Ljubljana knows how to party, and after nightfall, you are just as likely to hear the throbbing beat of club music or rock and roll, as you are the strains of violins.
Ljubljana is also home to an expanding culinary scene, where all the best of Eastern European cuisine seems to have merged into a smorgasbord of delights, from delicate Viennese-style pastries to hearty Hungarian goulash.