Regina Travel Guide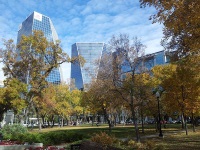 Victoria Park, Regina. © Ccyyrree
Regina is the capital of the historical Saskatchewan region, the Canadian province bordering the US states of Montana and North Dakota. The sunniest capital city in Canada, Regina is known for being the cultural and commercial hub for southern Saskatchewan and the wider region.
While not a celebrated tourist destination in itself, the city is the main transport hub of the region and therefore a common stop for travellers. Those spending a day or two in Regina will find a few interesting museums, good shopping opportunities, and some vast neighbourhood parks.
It's said that there is more open space per person in Regina than in any other Canadian city, which makes it a popular choice for those interested in outdoor activities such as biking, cross-country skiing, and long walks. The Wascana Lake occupies the centre and makes for an ideal spot for boating activity in the warm summers and skating in the icy winters.
Regina is also known for its famed Wascana Centre, a park built around Wascana Lake. It's home to the Provincial Museum of Natural History, the Regina Conservatory, and an art gallery, as well as the Saskatchewan Centre of Arts.
There are cafes, bookshops, and a few good restaurants located in the Cathedral District of the region, while for those in search of local talent, there is substantial cultural wealth to be found in the local theatre, music, and dance scene.