Cebu Travel Guide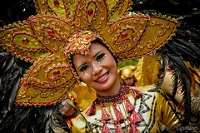 golden smile © Kenneth Gaerlan
The island-province of Cebu sits in the centre of the Philippine archipelago and is served by international and domestic flights to and from Mactan-Cebu International Airport. As Cebu is also a shipping crossroads, it is a good springboard for island-hopping in the Visayas. Within easy reach are the caves and lagoons of Calanggaman and Gato; the beaches of Argao, Oslob and Carmen; and the favourite dive spots of Moalboal, Badian, Mactan and Olango.
The Cebu metropolitan area is the country's second largest, and, along with its adjacent Maktan Island, has become a bustling package-tour destination, particularly for Japanese visitors. It abounds with shopping malls, fast food outlets, casinos, golf courses and all-inclusive resort hotels to cater for the holidaymakers who have come to enjoy the sandy beaches and glorious, balmy weather.
Cebu's main claim to fame is its colourful dancing festival, held every January, known as the Sinulog. The festival is a religious celebration involving dazzling costumes and Christian imagery. The revellers wend their way through the city streets from early morning to evening, singing and dancing.
Cebu is also the country's oldest Spanish colonial city and has several historic landmarks, including the original cross planted by Magellan in 1521 when he baptised the first group of Filipino natives into the Catholic faith. The cross is now housed in a roofed kiosk in Magallanes Street. Downtown Cebu is dominated by Colon Street, the oldest street in the Philippines, dating back to the 16th century, which is lined with stores, shopping malls, office buildings and movie theatres.