Lima Travel Guide
Lima Travel Guide
Notoriously foggy, noisy, and overcrowded, Lima is nevertheless an exciting and historic city, where many cultures and influences collide and the best of Peru, ancient and modern, can be enjoyed.
Lima was once the pride of Spanish colonists, and retains enough history and character to tantalise travellers from all over the world. Visitors will find fascinating museums and archaeological sites in and around the city, as well as a vibrant nightlife. Lima also has decent shopping opportunities and a fabulous restaurant scene, which showcases the country's increasingly sought after cuisine. The bohemian neighbourhood of Barranco and the historic old town are fun to explore on foot.
Best time to visit Lima
Lima tends to be hot and humid for most of the year, with little or no rain. The ideal time to visit is during the least humid months, between March and April. Fog is common from April through to December and blocks the sun.
Read more on Lima's Climate and Weather.
What to see in Lima
- Trace the history of Peru's ancient civilisations in the Museo de la Nacion.
- Marvel at the golden treasures of the Museo de Oro del Peru.
- Stroll around the Plaza Mayor and Plaza San Martin, the heart of Lima's historic old town.
- See the Candelabra at Paracas National Reserve in Pisco.
What to do in Lima
- Tour the catacombs and library of the Church of San Francisco, Lima's most spectacular church.
- Explore the Museo Rafael Larco Herrera, which contains the most impressive ancient ceramic collection in South America.
- Hike up Marcahuasi, a mountain outside Lima famous for its mysterious rock formations.
- Fly over the famous Nazca Lines, one of the most thrilling and mysterious sights in South America.
Beyond Lima
There are many fun and worthwhile excursions from Lima, and the city is the main transport hub of Peru, with regular flights and buses to the tourist centre of Cuzco, and the southern attractions of Arequipa and Lake Titicaca.
Getting there
Jorge Chavez International Airport, situated 10 miles (16km) northwest of Lima, is Peru's main airport, with direct flights to several European and American cities.
Get more information on Airports in Lima.
Did you know?
- Lima is the second largest desert capital in the world, after Cairo.
- It almost never rains in Lima; a half-hearted drizzle is all the city ever gets.
- Lima is plagued by traffic jams and rush hour can be an experience.
---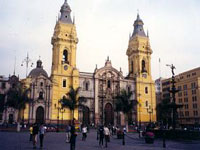 Lima Cathedral © Judith Duk
Peru's capital, Lima, lies between the Pacific Ocean and the foothills of the mighty Andes Mountains. Sprawling, chaotic and overcrowded, visitors will note the stark contrast between wealth and poverty as they take in the city's glitzy seaside suburbs and its dusty shantytowns. Even so, Lima remains a vibrant and colourful destination, and a wonderful introduction to this mysterious country.
Regarding its history, Lima was once the most important and prosperous city in Spanish America. It has not retained that distinction, though it is still an animated stop, where travellers will encounter an exciting mix of influences and nationalities, and an exceedingly rich cultural heritage.
Today, Lima dominates Peru's commercial and political life, and some of the country's best nightlife, museums, and restaurants are located in the city. Its old colonial centre also holds a certain elegance, with its beautiful churches, convents, central plazas and graceful old mansions. The city's outstanding art and archaeology museums provide an excellent introduction to the history and culture visitors will discover in other parts of the country.