Cuzco Travel Guide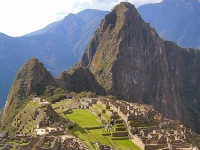 Machu Picchu © Brian Snelson
Cuzco is the sacred capital of the Inca Empire, known to the early Incas as the 'navel of the world'. It's the oldest continuously inhabited city in South America, and the gateway to the ancient citadel of Machu Picchu.
The city is filled with the Inca legacy, evident in the straight cobbled streets lined with the remains of exquisite stone walls built by the Incas, examples of ancient stonework incorporated into the structure of colonial churches and buildings, and the Quechua-speaking descendants of the Incas that fill the streets with their bright dress and colourful handicrafts.
It is one of South America's biggest tourist destinations with a thriving traditional culture, ancient ruins, archaeological treasures, and magnificent colonial architecture. Chief among its attractions are the Inca Trail (culminating at the magnificent hidden city of Machu Picchu), the villages and archaeological ruins in the nearby Sacred Valley, and the Inca fortress of Sacsayhuamán overlooking the imperial city.
Despite its popularity, Cuzco remains relatively unspoiled and its beautiful setting in the Andean mountains, at an altitude of 11,000ft (3,400m), is guaranteed to leave visitors breathless. Cobbled streets run steeply up the hills and are lined with quaint whitewashed houses; steps are bordered by craft stalls watched over by traditionally dressed indigenous women; and elevated church bell towers offer fantastic views over the red-tiled roofs.
The heart of the city is the stately Plaza de Armas, dominated by the cathedral and framed by colonial arcades and wooden balconies that house souvenir shops, restaurants, bars, and tour agencies. Flying over the Spanish colonial structures around the plaza is the Peruvian national flag together with the rainbow-coloured flag of the Inca Empire, emphasizing the unique blend of the ancient, colonial, and modern that characterises the spectacular city of Cuzco.