Toronto Travel Guide
Toronto Travel Guide
A different city in every season, Toronto's weather is as varied as its population, making it a fascinatingly multi-faceted destination, but always polite, culturally rich and artistic.
A holiday in Toronto provides non-stop adventure for tourists with its distinct seasons and distinct neighbourhoods each offering something different: summer cultural festivals along the harbourfront; the delightful gaudiness of the Yonge Street strip; quaint Victorian houses in Cabbagetown; heart-warming meals in Little Italy; skating on the numerous outdoor rinks in winter. A Toronto holiday is full of surprises, from the top of the lofty CN Tower to the rainforest of the Ontario Science Center. In the warm months the nightlife bursts with pent-up energy, but even in winter quality night-time entertainment can be found. Serious shopaholics will find endless shopping opportunities in Toronto, history buffs will find interesting museums, and art lovers will relish the many galleries and creative festivals. Kids are also very well-catered for, with plenty of family attractions and a friendly urban atmosphere.
Best time to visit Toronto
The best time to travel to Toronto is during the summer months (June to August), when the weather is pleasant for exploring on foot and the city comes alive with outdoor events. Winters in Toronto (December to February) are bitterly cold, but if you choose a Toronto holiday in the chilly months the underground shopping malls will provide plenty of entertainment without having to brave the elements. The most beautiful season in Toronto is autumn, when the fall foliage is riotous. Read more on Toronto's Climate and Weather.
What to see in Toronto
-Take a tour of Casa Loma, Toronto's incongruous but intriguing medieval castle.
-See rare and wonderful animals at the world-class Toronto Zoo.
-Admire spectacular views from the lofty CN Tower.
-View the collection of the Museum of Contemporary Canadian Art, full of the weird and wonderful.
What to do in Toronto
-Make the kids squeal with excitement at Paramount Canada's Wonderland.
-Shop and eat your way around the Distillery Historic District.
-Marvel at the diverse treasures in the Royal Ontario Museum.
-Visit the Harbourfront Centre, the communal heart of Toronto.
Beyond Toronto
Canada is an enormous country and the major cities are generally far apart, but both Ottawa and Montreal are within reach for a weekend getaway when staying in Toronto. Popular excursions from Toronto include the epic Niagara Falls and Lake Superior, both irresistible to travellers.
Getting there
The Toronto Lester B Pearson International Airport, invariably known just as Toronto International, is Canada's busiest airport. It is situated 16 miles (27km) northwest of downtown Toronto. Get more information on Airports in Toronto.
Did you know?
-The coldest temperature ever recorded in Toronto was -24°F (-31°C), and the highest was 105°F (41°C).
-There are 52 outdoor skating rinks in Toronto, generally open between December and February.
-More than 21 million people visit Toronto annually.
---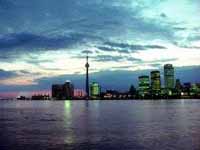 Toronto skyline ©
The most heavily populated city in Canada, Toronto is a vibrant and cosmopolitan place; the country's financial, commercial and cultural centre with a rich multi-cultural heritage of more than 80 ethnic groups, speaking more than 100 languages. The city has a lively stock exchange, soaring futuristic architecture, museums, art galleries, performing arts companies, fine restaurants, large shopping complexes, a waterfront and hundreds of parks.
Toronto is situated on the north shore of Lake Ontario, and sports distinctive neighbourhoods as well as the longest street in the world, Yonge Street, as its main north-south artery. Toronto's most prominent landmark is the CN Tower, which is one of the world's tallest free-standing structures, with glass-fronted elevators that rise 1,815ft (553m) to indoor and outdoor observation decks. The city also boasts the 'Skydome', which is a multi-purpose entertainment complex with a retractable roof, billed as the world's greatest entertainment centre.
In the 17th century Toronto was a small French colony; then came the American Revolution which encouraged scores of British loyalist families to flee north. Many settled beside the lake establishing a town known as York, which slowly grew in importance as an administrative and manufacturing centre. In 1834 the name was changed to Toronto, an Indian word meaning 'meeting place'. The new name proved appropriate when about a century later the city's English character began to be buried beneath the conglomeration of cultures brought in by a massive tide of immigrants from all corners of the world. Old English pubs and Victorian and Edwardian architecture survive among the skyscrapers, but Toronto is today a lively and cosmopolitan city and Canada's commercial capital.
It does get very cold over the winter months of November to March so if you are averse to chilly weather plan your visit over the mid-year period. Toronto just might be the destination that has it all - reason enough to visit and enjoy what has been described as Canada's 'world within a city.'