Halifax Travel Guide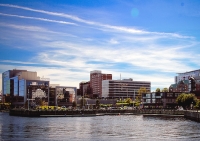 Halifax Waterfront © Janayna Velozo
Halifax is the provincial capital of Nova Scotia and also serves as the centre of commerce for the whole of Atlantic Canada. It is situated opposite its twin city of Dartmouth, across the Bedford Basin, on the second-largest natural harbour in the world (the largest is Sydney, Australia), and has long been an important maritime centre. Halifax Harbour extends for 10 miles (16km) and is home to North America's oldest yacht club, Northwest Arm. Two toll bridges span the harbour and a passenger ferry connects Halifax and Dartmouth.
Halifax was founded in 1749 by the British in an effort to strengthen their presence in the North Atlantic, and the city retains its British military air. Many historic stone and wood buildings have been preserved, particularly in the restored waterfront area that has become a major tourist attraction, offering shopping, nightlife, entertainment and restaurants.
Halifax is the cultural hub of Nova Scotia and for the Atlantic provinces as a whole. It has a number of art galleries, museums, theatres, and other entertainment facilities, and is home to the Nova Scotia Symphony, and many cultural festivals like the Nova Scotia International Tattoo, Shakespeare By the Sea, The Halifax International Busker Festival, Greekfest, and the Atlantic Film Festival. Visitors can find out more about the city's culture from its free alternative arts weekly magazine, The Coast. The city also offers a range of recreation sites like beaches, parks, and walking trails, and some 'living history' experiences like the firing of the noon day gun at the Halifax Citadel and the working locks of the Shubenacadie Canal.