Eindhoven Travel Guide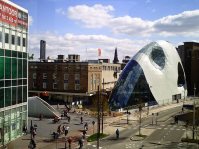 Eindhoven © Cwoyte
Eindhoven is often seen as more of a business hub than a tourist destination, and is overlooked by many travellers. Located in North Brabant, the city is a European technology and design centre, and has grown from being a mere village at the start of the 20th century into one of the largest cities in the Netherlands, with a population of more than 200,000.
Despite its overlooked status, Eindhoven is a bustling city with plenty of amusements and attractions to offer visitors, including world-class museums like the Van Abbemuseum, which houses one of the best modern art collections in the world. Other interesting museums in Eindhoven include the Historic Open-Air Museum, the Museum Kempenland, and the Ton Smits House. The Philips First Incandescent Lamp Factory of 1891 is also fascinating for those interested in technology and the history of the city.
Eindhoven's blend of modern technology and historic preservation is evident in its landmark buildings. Visitors can spend the morning touring centuries-old churches (including Paterskerk, Sint-Catharinakerk, and Sint Joriskerk), and then view space-age constructions like the UFO-shaped Evoluon conference centre, or the 'Blob' in the Admirant shopping area. Active visitors will also find lots to do, such as taking a stroll through the sculpture gardens of the Stadswandelpark, or a spin around the Hovenring, the first suspended bicycle roundabout path in the world.
Eindhoven is a lively city, with plenty of music and theatre options. The downtown area is full of excellent restaurants, particularly around the Dommelstraat, the Markt and the Bergen Quarter. Located just 90 minutes from Amsterdam by train, Eindhoven makes a great weekend getaway for anyone exploring the Netherlands.