Maputo Travel Guide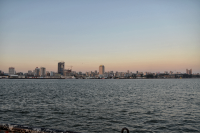 Maputo © AP1MZ
The sprawling capital of Mozambique was, under Portuguese influence in the 18th century, one of the most beautiful and fashionable cities on the African continent, with a sophisticated multi-national atmosphere, elegant buildings, and wide, shaded avenues. Maputo, or Lourenzo Marques as it was known before independence, became the capital of Mozambique in 1898 and the city was established as a major trade and industry centre, boasting the country's most important harbour.
Following the process of decolonisation, the 17-year civil war that raged during the 1970s and 80s had a devastating effect on Maputo, reducing the proud city to a state of grubby disrepair, with thousands of immigrants taking over from where the wealthy socialites left off. The city has worked hard to recreate some of its former grandeur, with the five-star Polana Hotel once again abuzz with the gossip of the rich and famous, and restaurants serving up their famous peri-peri prawns.
Today, the city is a lively mix of people, with lots of markets and street vendors, a vibey café culture, buzzing nightclubs and live music venues, and a relaxed pace of life. It is run-down and still somewhat dilapidated, but Maputo can be a fun and interesting stop on a Mozambique holiday. Many visitors to Maputo are simply passing through on their way to popular coastal regions and islands like Inhaca, situated just off the coast and a popular spot for diving and snorkelling, but it is worth spending at least a few hours walking around the city. Those who decide to use Maputo as a base for further travel will discover many beautiful beaches and lakes just beyond the city.